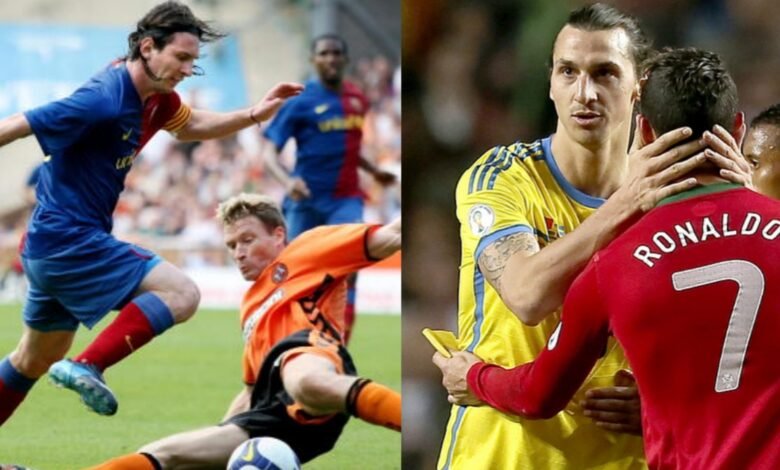 The famous Winston Churchill once said, "A lie gets halfway around the world before the truth has a chance to get its pants on." In the age of misinformation, sorry to say so, as unchecked fudged facts make their way around the world way faster than light from the sun, thanks to the blistering speed of the internet and the shallowness of human brains in the modern days. Many Football facts go unnoticed.
It feels more like a competition that who can let the world know about something first instead of the fact that who can let the world know about something in details that are exact. To put in Metallica's words, this is indeed sad but true.
Now misinformation has become so predominant that a few crazy facts at times look like forged news which is so beautiful or incredulous that even it is true, people will question its truth to the very bone unless they have sucked the marrow out of the canards.
In this story today, we will be looking at five football facts that are so incredible that you will definitely rummage the internet to come up with a counter and yet be left scratching your heads nevertheless because football isn't just unbelievable but it is too good to be true.
1. Philipp Lahm didn't commit a single foul for a year
Philipp Lahm was one of the deftest defenders the world has ever seen. He didn't hesitate in lunging himself into the attackers whenever the situation demanded. Yet, such perfect were his tackles that he didn't get a single red card in his entire career. He was a giant in the backline and used his brawn to perfection.
Such was the towering precision that Lahm didn't commit a single foul for a year that spanned from September 2014 to October 2015. Not only was Lahm a heart in the Germany and Bayern rearguard, but his rare exploits up ahead were also equally enviable.
2. Barcelona has never won against Dundee United
The bedecked glory that the Catalans boast about is too lucid for any other European team to come close to. However, this ordinary unit from Scotland has a sweeping advantage over the Spanish juggernauts. Dundee United has collided with Barcelona four times until now and on all four occasions, the Scottish outfit has prevailed. In the Inter-Cities Fairs Cup, 1966-67 season, these two teams clashed for the first time. The first leg saw Dundee coming up trumps by a close 2-1 margin while the second leg saw a more comprehensive upshot as the Scottish contingency managed to impose a 2-0 drubbing on the European giants. The second time these two teams clashed against each other was in the 1987 UEFA Cup that saw Dundee United squaring off with Barcelona in the quarter-finals.
A 1-0 victory at Tannadice accorded the advantage to United in the first leg. Miraculous stuff from the Scottish folklore was intaglioed in the second leg as late heroics from United staved off a soaring Barcelona to advance to the semis. Late strikes from John Clark and Iain Ferguson took Dundee hammer and tongs to the semis where they successfully trounced Borussia Monchengladbach to make it to the finals.
3. Ibrahimovich and Cristiano Ronaldo have scored in every single minute of a football match
This is an absolutely crazy statistic that will blow your mind. Players like Zlatan and CR7 have scored a boatload of goals that would only be the dream for someone. However, these two human beings have scored in every single minute of a football match which is no easy feat to achieve.
Ronaldo has a total of 582 goals in his senior footballing career. Zlatan, on the contrary, has scored 458 goals in his senior football career and at the age of 39 is still going strong for AC Milan.
4. Kingsley Coman has won a league every single year ever since he has stepped into the world of professional football
You haven't won your national league for a long time and let's say that there are options like Cristiano Ronaldo, Lionel Messi and Zinedine Zidane doing rounds on your table, whom would you go for? You must go for this man called Kingsley Coman who has a perfect League record and a fascinating resume.
Ever since he has stepped into the world of professional football, he has won the champion's medal in each team's respective national league. He began his professional career at PSG in 2012-13 where he won his first Ligue 1 medal despite playing a solitary fixture. In the following year, he played one more game than the preceding season and yet he won the champion's medal again. He then travelled to Italy and won the Serie A with Juventus twice on repeated occasions. Finally, the Bavarians came calling and ever since his footfall in the Allianz Arena, he has already made it six Bundesliga titles in a row making it a perfect tenner.
5. Stefan Schwarz had a bizarre 'space' clause in his contract with Sunderland
Stefan Schwarz was nicknamed 'the spaceman' at the Stadium of Light. He had a soft corner for Yuri Gagarin in his heart. He was roped in by Sunderland in 1999 for a fine deal of £4 million. The clause stated that he would not be allowed to go into space unless his contract terminates for Sunderland. One of the primary reasons for the same was that he was actually willing to sign up for a commercial flight to space.
In John Fickling's interview to BBC, the Sunderland chief executive was heard citing, "One of Schwarz's advisers have, indeed, got one of the places on the commercial flights. And we were worried that he may wish to take Stefan along with him. So we thought we'd better get things tied up now rather than at the time of the flight."