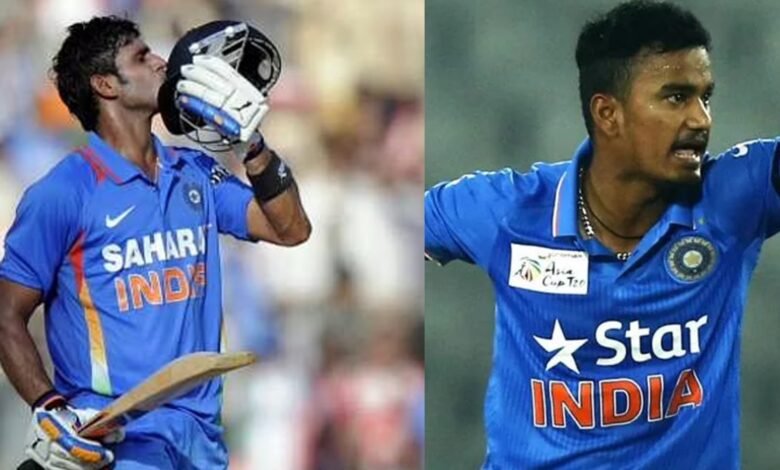 When it comes to the Indian T20I Team, most of the selections are driven by IPL. A feature of IPL over the years is that some players who do well in one season may not be able to maintain their consistency. As of the end of June 2022, India has seen 97 cricketers represent the nation in the T20I format. A few of them have even taken part in the ICC mega-event of the T20 World Cup. If you take a look at the situation now, it is a surprise that these cricketers were once part of the illustrious event. On that note, in this article, we take a look at five players you might not know have represented India in the T20 World Cup.
1) Manoj Tiwary – 2012 T20 World Cup
IPL 2011 and IPL 2012 were a bright patch in Manoj's IPL career. Respectively, in these seasons, he scored 359 and 260 reasons. In 2010, as well, he had shown some consistency. Hence, he was selected for the World Cup that was held in Sri Lanka.
Manoj did not get a game in that event. Overall, he featured in just three games for the country in the format. In ODIs, as well, despite doing well, frequent opportunities never came by. At the moment, the player is a politician and recently did well in the knockout stage of the Ranji Trophy for West Bengal.
2) Varun Aaron – 2014 T20 World Cup
Varun Aaron is one of the players you might not know have represented India in the T20 World Cup. Perennially, India has always been behind bowlers who displayed raw pace. Apart from Test cricket, Aaron was backed in the shorter formats, as well.
In IPL 2014, he collected 16 wickets at an impressive economy of just over eight. Therefore, he was called up to the squad for the T20 World Cup. Along with Varun, the other members of the pace attack were Bhuvneshwar Kumar, Mohammed Shami, and Mohit Sharma. Varun recently won IPL 2022 with the Gujarat Titans.
3) Amit Mishra – 2014 T20 World Cup
Despite being one of the highest wicket-takers in IPL, Amit Mishra played only 10 T20I games for India. While we mostly remember the stints of R Ashwin, Ravindra Jadeja, Yuzvendra Chahal, and Kuldeep Yadav in the Indian T20I Team, even Mishra was once part of it.
In fact, in the 2014 T20 WC, he had a good run. In 6 games, he took 10 wickets at an economy of just 6.6. However, after that, he played only 3 games for India.
4) Ashok Dinda – 2012 T20 World Cup
Ashok Dinda is also one of the players you might not know have represented India in the T20 World Cup. Just like Manoj, Dinda was also enjoying his time in T20 cricket around this time. Hence, he also earned a call to be a part of the pace attack that also included the likes of L Balaji, Zaheer Khan, and Irfan Pathan.
Dinda did play a game in that event. The match was against England but Dinda conceded 26 runs in 2 overs and never got a chance again in the competition. Like Manoj, currently, Ashok is also an active part of politics.
5) Pawan Negi – 2016 T20 World Cup
2015 was the breakthrough year for Pawan Negi in IPL. He impressed many with big-hitting skills and also did well with the ball. This gave him a chance to represent India at the T20 WC at home.
Negi was not able to consolidate his place in the XI. There was also intense competition for his spot. He was later dropped and recently even failed to earn an IPL contract.