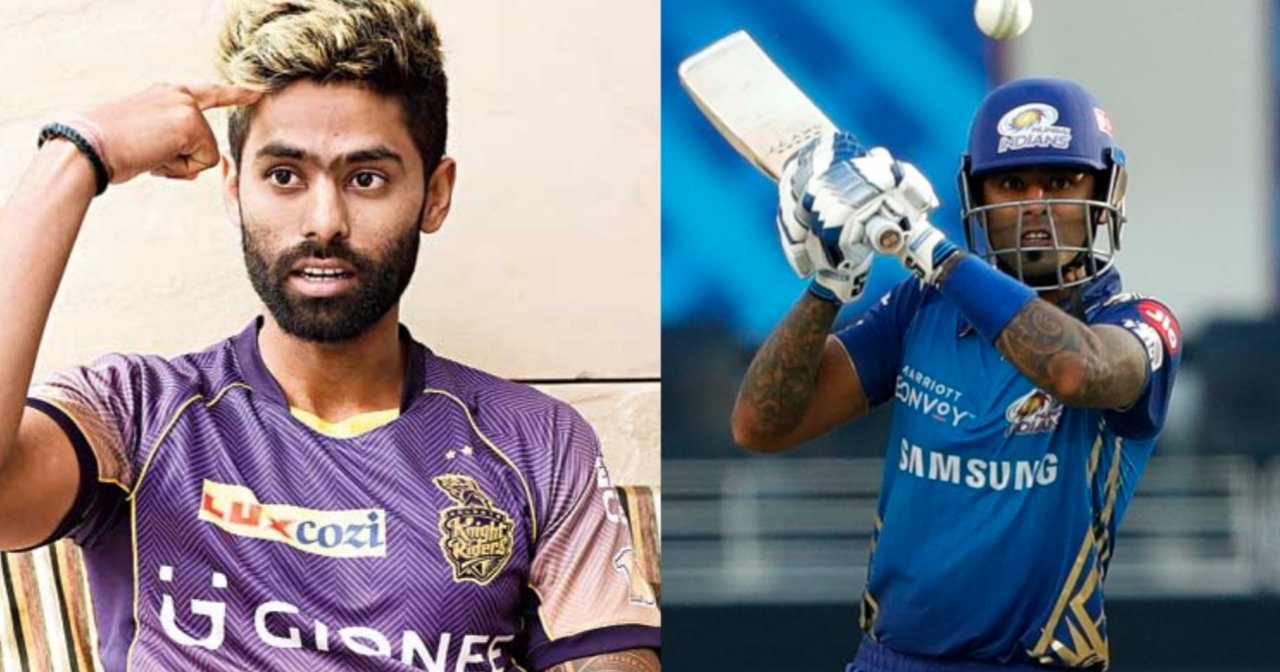 Mumbai Indians and Kolkata Knight Riders both have experienced the taste of multiple IPL title wins. Except MI has claimed it five times and is the most successful IPL team. On the other KKR also deserve some appreciation, having won it two times in 2012 and 2014. Several players have been fortunate enough to play for both of these top-class franchises. Some have also been fortunate enough to win the IPL with both of these. This article will introduce you to five such players who have played for both MI and KKR at some time in their IPL careers.
Baring a few, most of the players in IPL have played for more than one IPL franchise. Among these, there have been a few fortunate players who have had the opportunity to represent two successful IPL franchises, MI and KKR. So without further ado, let's look at a few big names who have played for both these IPL giants:
#1 Suryakumar Yadav:
The latest addition to the Indian Cricket Team, Suryakumar Yadav, made his IPL debut for Mumbai Indians in 2012. But he only got to play in one match in which he didn't score anything at the expense of four balls. His journey with KKR began in 2014. He played at an average of 32.8 and a strike rate of 140+ throughout the season, which KKR ended up winning. Unfortunately, SKY wasn't part of the playing XI in the final.
Suryakumar Yadav played for KKR till 2017. Next year Mumbai Indians bought him for 3.2 crore INR ahead of IPL 2018. SKY ended up scoring 512 runs at a strike rate of 133.33 that season which included four half-centuries. Since then, he has been doing wonders for MI, batting at number three and number four positions.
#2 Trent Boult:
Yup, the New Zealand pacer has played for Kolkata Knight Riders. KKR bought Trent Boult at the 2017 IPL auction. The 2017 season was his only IPL for KKR. It was also his worst IPL in terms of bowling figures. Boult managed to pick only five wickets from 23.5 over in that IPL at a bowling average of 43.2.
He then played for Delhi Capitals for the 2018 and 2019 seasons before finally getting picked by Mumbai Indians ahead of IPL 2020. Trent Boult had an impressive IPL with MI as he came out as the third-highest wicket-taker of the tournament.
#3 Dinesh Karthik:
The former Kolkata Knight Riders skipper has played for six different IPL franchises, including MI and KKR. Dinesh Karthik first played for Mumbai Indians in the IPL 2012. He stayed with MI for two seasons, 2012 and 2013. In IPL 2013, he contributed 513 runs to Mumbai Indians' IPL victory campaign at an average of 28.33.
He played for Delhi, Bangalore, and Gujarat, respectively, for the next three years. Karthik has been playing for KKR since 2017. He led KKR to playoffs in 2017 and 2018 and was the highest scorer for KKR in the 2018 edition of IPL. In 2020, he stepped down from KKR's captaincy role to concentrate on his batting.
#4 Nathan Coulter-Nile:
Nathan Coulter-Nile began his IPL career at Mumbai Indians. Mumbai Indians bought him at the 2013 IPL auction. However, he only played one match for the five-time champions in 2013, producing a bowling figure of 29/1 from his four overs. At the 2014 auction, he was picked by Delhi Daredevils and played for them for three seasons. Finally, in 2017, KKR paid for his services for the 2017 IPL, and he didn't disappoint.
Nathan Coulter-Nile picked 15 wickets in just eight matches at a bowling average of 15.20 for KKR in 2017. Next year, RCB bought him ahead of the 2018 season, but he didn't play for the next two seasons. He back to Mumbai after seven years in 2020 which has been his home since.
#5 Nitish Rana:
Nitish Rana started his IPL journey at Mumbai Indians when MI bought him at auctions before IPL 2015. Although he didn't get to play in the entire 2015 season, he got his chance in the IPL 2016. Rana played four matches in 2016 in which he scored a total of 104 runs at an average of 34.66 and a strike rate of 138.66.
The left-hander continued to impress for MI in 2017 as well, scoring 333 from 13 matches. Nitish Rana's 2017 performance got the attention of Kolkata Knight Riders management, and they bought him in the 2018 IPL auction. He has been a regular for KKR since and has played some match-winning knocks in the KKR middle-order.