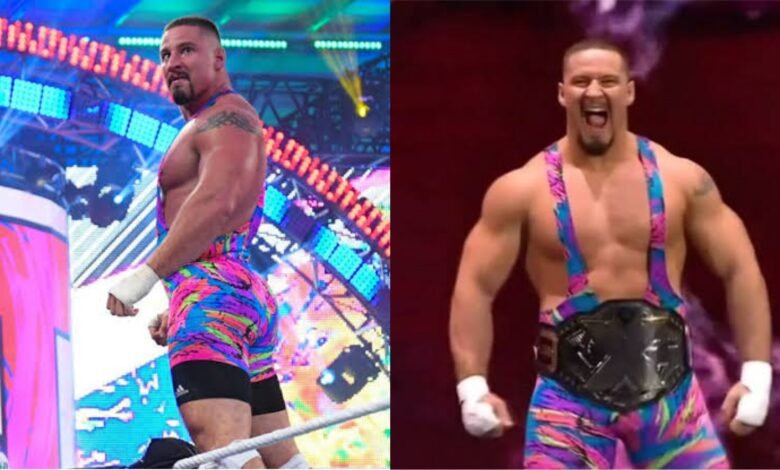 Bron Breakker (Bronson Rechsteiner) is a two time NXT champion holding the title currently. He is a former football star who was playing for his college Kennesaw State University and later got drafted to NFL's Baltimore Ravens only to be released in a few months.
He then made his entry into WWE as it was his plan all along being the son of Hall of Famer Steiner Brothers' Rick Steiner and nephew of Scott Steiner. With his pedigree and athletic background, he has been called the future of WWE by many veterans like Booker T and was even presented as the face of NXT 2.0 with matching ring gear. Let's find out some astonishing facts about the young champion:
1. Ring name origin 
For the first time in my life, I decide to watch NXT, Bronson Rechsteiner (now Bron Breakker) debuts in the first 5 minutes! pic.twitter.com/GWWw6qKaT7

— Jon (KSU Owls Fan) (@KSUOwlHowl) September 15, 2021
Bron Breakker was using his famous last name as Rex Steiner before his debut on NXT.  But he surprisingly debuted as Bron Breakker on NXT 2.0.
During a Yahoo Sports interview, he said that his new ring name was influenced by his college football career. He cleared that the idea originated from the time he was playing collegiate and professional football and he wanted to break opponents in half at the time of blocking them on the gridiron.
2. Fisherman and a Farmer
In an interview with fellow superstar and NXT alumni Montez Ford on WWE Grit & Glory , Bron mentioned that he is an avid fisherman and goes bass fishing 3-4 times a week after training. Also that he grew up working on a farm with chickens, goats, pigs and horses. So he knows how to take care of all farm animals.
He said working on a farm teaches character values in a young kid but it's hard work. He enjoys hunting once in a while too.
3. Goldberg tattoo
Fans of NXT must have noticed a tattoo on the champ's left deltoid that looks very similar to a Legend's. It's a tattoo that looks like the one Goldberg sports on his left shoulder. On the Out Of Character interview with Ryan Satin he explained that he was a massive fan of Goldberg growing up and even called him the Man.
He revealed that he got the tattoo as a young kid at 18 years old. And although he is still a fan, the tattoo was a mistake and plans to remove or alter it in the future. Meanwhile he remains in touch with  Goldberg, who even gives him pointers on his matches, both being of similar football backgrounds and powerful style of wrestling.
4. Zombie extra
— Images That Were Forgotten (@DatWrestlinDude) January 7, 2022
NXT talent have been used as extras many times in the past on the main roster. During WrestleMania Backlash 2021, WWE had a Zombie Lumberjack match, to promote their partner movie Army of the Dead, between The Miz and Damian Priest.
It was a weird match, with men dressed as zombies surrounding the ring serving as lumberjacks. Many of the zombies were recognised as NXT performers of the time like Ikemen Jiro, Andre Chase, Creed Brothers, Joe Gacy, Von Wagner and Bron Breakker. A far cry from the face of NXT 2.0
5. Dating Cora Jade
Bron Breakker was revealed as the love interest of the upcoming and promising young NXT talent Cora Jade, when she posted on her Instagram, a picture of Breakker in a setting that looked like a date. Also, the filter she used was the pallete heart fuelling the fire.
21 years old Cora and 24 years old Bron later confirmed that they've been dating since December 2021.