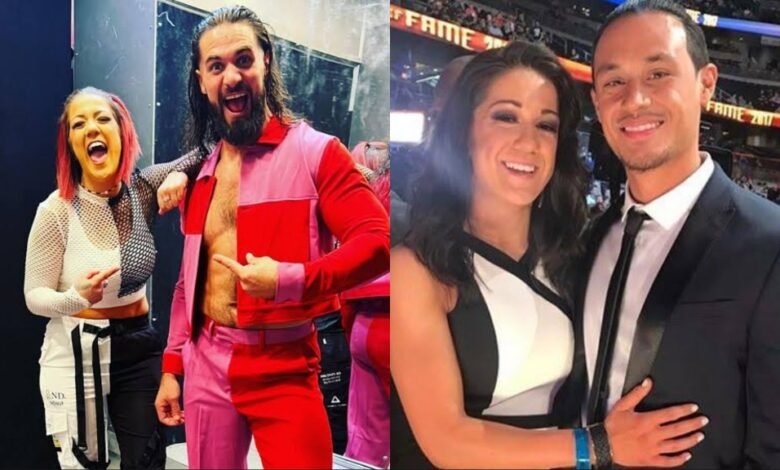 After four years of competing adroitly in the independent wrestling circuit, Bayley signed with WWE in 2012. She has ever since been a shining star in the sky, notching up the first Women's Grand Slam Champion. She currently is a reckoning force in the Divas department on Monday Night RAW.
Given the stature that Bayley comes to the fore with, it is needless to say that she will have countless romantic interests. She is beautiful, intelligent, sharp and most importantly one of the most prolific wrestlers for the company. She has quite an impressive list of suitors whom rumours linked with Bayley in real life.
Here are four WWE superstars that Bayley has been romantically linked with over her glittering span in the WWE:
#1 Aaron Solow dated Bayley 
AEW's Aaron Solow announced he and Bayley have called off their engagement and ended their relationship after several years together. pic.twitter.com/54aFyve8Dc

— B/R Wrestling (@BRWrestling) February 21, 2021
While working in the independent circuit, Bayley met former WWE superstar, Aaron Solow in 2010. The couple dated for a few years before getting engaged in 2016.
However, the couple decided to part ways and walk their separate path as Bayley quoted, "This has been an extremely difficult decision to make. Pam (Bayley) and I have come to the realization that we have a completely different idea of what we want our future to look like, because of this we feel that it would be in our best interests to call off our engagement and end our relationship. We have a lot of great memories together that we'll forever cherish. We've agreed to remain friends and will continue to support each other in our careers and lives."
#2 Finn Balor
Finn Balor and Bayley at Make-A-Wish Connecticut! pic.twitter.com/CDYiGO8wcT

— Em loves Monè💙 (@Loyal2Bayley) December 10, 2022
The Demon formerly was one of Bayley's closest friends in the WWE circuit. It all started when the 33-year old linked herself with he Judgment Day in the 2018 Mixed Match Challenge. A few years ago Bayley and Finn jokingly emulated each other's entrances and posted a picture with the parents captioning it "meet the parents".
In an interview with Renee, the duo shared the secrets of copying each other's entrances, stating, "It wasn't even a storyline, we kind of made it ourselves on NXT. He sprained his ankle and he wasn't having a match. Everybody thought that it would be funny if I did his entrance because of my character. Then they just loved it so much and we got so much love on YouTube when someone posted it. He did my entrance. And then, they started teaming us up for matches in NXT. So, we just kind of rolled with that because everybody liked it."
#3 Seth Rollins
Before Seth got in close contact with Becky Lynch, the former Architect was spending a lot of time with Bayley. In 2017, Bayley emulated Rollins' hairstyle in a photo. However, before the rumours could take flight, it all died down midway as the duo have been nothing more than amazing friends and absolutely phenomenal wrestlers in their own capacity.
#4 Roman Reigns
Over the past few years, Roman has been very closely linked with the head of the Bloodline, the Tribal Chief, Roman Reigns. Bayley and Reigns were attending a few events together. A lot of fans wanted Reigns confirm the status of what was exactly happening. However, the duo let the rumours die and are still being spotted together at several events as the Universe continue with their speculations.