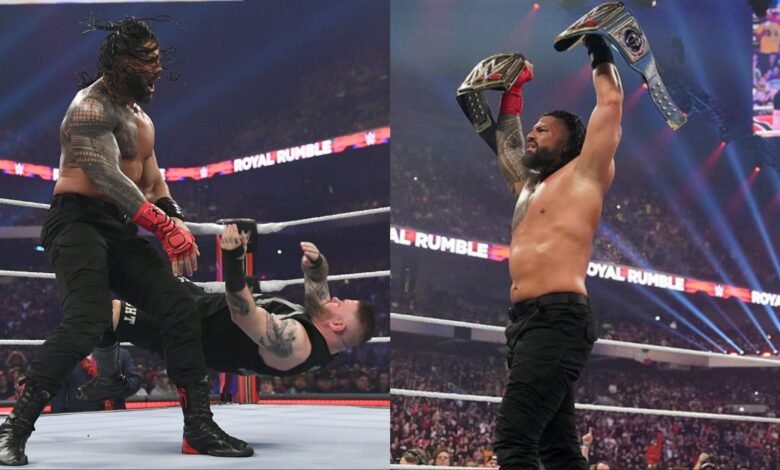 As I pen this down, Roman Reigns just completed 900 days as the WWE Universal Champion. His heel character has been so compelling that it has drawn back lapsed fans who stopped watching WWE in recent years. That in itself proves how remarkable the journey has been of The Head of the Table. Roman Reigns will defend his championship against Cody Rhodes at WrestleMania 39.
The Tribal Chief has held the WWE Undisputed title since WrestleMania 38, and many fans are hoping that he will remain the champion after WrestleMania 39. Here are three reasons why Roman Reigns should remain WWE Undisputed Universal Champion after WrestleMania 2023.
1. Long term Perspective
Tonight, your city is mine 🇨🇦. #WWEChamber @peacock pic.twitter.com/gkXHKagtmt

— Roman Reigns (@WWERomanReigns) February 18, 2023
Roman Reigns has proven to be a big draw for WWE. He is now the face of WWE and his historic championship reign has kept fans invested and engaged in the product.
If Triple H wants to continue the growth of WWE and maintain their fan base, keeping Reigns as champion after WrestleMania would be a smart move.
2. Roman Reigns has defeated too many big names to lose against Cody Rhodes at WrestleMania 39
900 Days ago Roman Reigns saved The Universal Title 😭😭pic.twitter.com/uIiDc3khKG

— Public Enemies Podcast (@TheEnemiesPE3) February 16, 2023
Roman Reigns has defeated some of the best WWE Superstars in recent years, including Edge, Brock Lesnar, and Drew McIntyre. However, there seem no credible challengers on the horizon who can realistically take the title from him.
By keeping the title on him, WWE will get the space to build new stars and create storylines that could eventually lead to a legitimate threat to his championship reign.
3. Too early to hand over Championship to Cody Rhodes
The American Nightmare is slated to face Roman Reigns in the main event of WrestleMania 39. If WWE plans to have Cody Rhodes win the Undisputed Championship too soon, there is a risk of his character becoming stagnant or lethargic.
Building him up slowly and giving him other storylines to work with will help him in character development and a more organic rise to the championship picture.