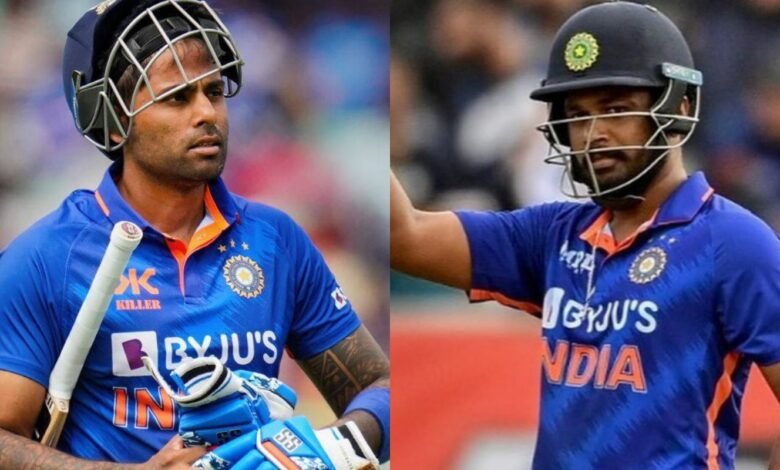 It was not a great outing for Suryakumar Yadav against Australia in the ODI series. In all three games, SKY failed to make runs and in all three matches, he was out the first ball. While he fell prey to Mitchell Starc in the first two games, Ashton Agar got him in the third encounter. Now, the management might look at other options for the middle-order. Here, we take a look at three players who might replace Suryakumar Yadav for the 2023 ODI World Cup.
1) Sanju Samson
Not long ago, Sanju Samson was the designated finisher for Team India in the ODI setup. Now that the regulars have started focussing on ODIs, Samson lost his spot.
However, the Kerala cricketer ticks all the boxes that are required to become a finisher in the white-ball formats. If he is given a run of games to prove himself, he might as well do well for the nation.
2) Deepak Hooda
Deepak Hooda is one of the players who might replace Suryakumar Yadav for the 2023 ODI World Cup. Compared to T20Is, it is actually the ODI format that is best suited for Deepak.
He has a good range against spinners, which will be very useful in the middle-order. Suryakumar Yadav is currently playing at No.4 as the backup batter for Shreyas Iyer. Therefore, Deepak Hooda is suited for SKY's role in the middle-order. On top of this, the cricketer can also give a few overs with the ball.
3) Rajat Patidar
The Madhya Pradesh cricketer is yet to make his ODI debut but going by the state of India's injuries, he might soon wear his India cap. Therefore, he is also on the list.
Just like the other members on this list, Rajat, too, is good against the spinners. He also has the temparement to perform well in the ODI format. Hence, the Indore man is also on this list.