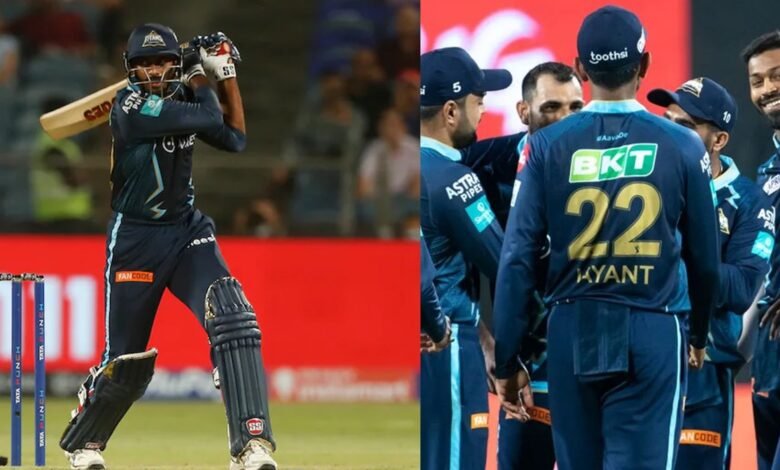 Recently, all franchises announced the list of retentions before IPL 2023 Auctions. In recent years, teams had become ruthless when it comes to awarding chances to non-performers. With the abundance of talent in the market, even if players go wrong in one season, franchises could afford to drop them. However, against this trend, we witness a few teams retaining a few players despite their poor touch. On that note, here, we take a look at three players surprisingly retained by franchises ahead of IPL 2023 Auctions.
1) Vijay Shankar – Gujarat Titans
For a few years now, Tamil Nadu all-rounder Vijay Shankar has not fired in the IPL. In IPL 2022, he even got chances in his preferred batting position in the top order. Yet, he could find success. With the likes of Abhinav Manohar and B Sai Sudharsan doing well, many felt that Vijay Shankar would be released.
Moreover, Vijay did not play in the recent Syed Mushtaq Ali Trophy. It appears that Gujarat Titans have decided to invest more time in the cricketer. Vijay Shankar is a talented cricketer and if he can ease himself into the competition, he can definitely succeed.
2) Anuj Rawat – Royal Challengers Bangalore
Believe in the core!

12th Man Army, here are our 𝗿𝗲𝘁𝗮𝗶𝗻𝗲𝗱 𝗥𝗼𝘆𝗮𝗹 𝗖𝗵𝗮𝗹𝗹𝗲𝗻𝗴𝗲𝗿𝘀 who will be a part of RCB's #Classof2023!#PlayBold #WeAreChallengers pic.twitter.com/aQCnh2K66E

— Royal Challengers Bangalore (@RCBTweets) November 15, 2022
Anuj Rawat is one of the players surprisingly retained by franchises ahead of the IPL 2023 Auctions. Despite not having a great record in domestic cricket, Anuj went for INR 3.4 Cr at IPL 2022 Auctions. After failing in most games in IPL 2022, he was expected to be released.
In the recent SMAT 2022, Anuj was also dropped from Delhi XI after a few failures. Despite all of this, RCB still retained him. They could have surely tried to re-hire him at a lower price but it looks like RCB sees something in him that no one else has seen so far. Hopefully, he can repay the trust by doing well in IPL 2023.
3) Harpreet Brar – Punjab Kings
Harpreet Brar could not justify his price tag of INR 3.8 Cr in IPL 2022. It was expected that he would be released before IPL 2023 Auctions. However, the Punjab all-rounder has been retained.
There are plenty of options of a similar profile in the market. Therefore, it was a big surprise that Brar was released. Nevertheless, the franchise has a big purse and can still go after the targets.