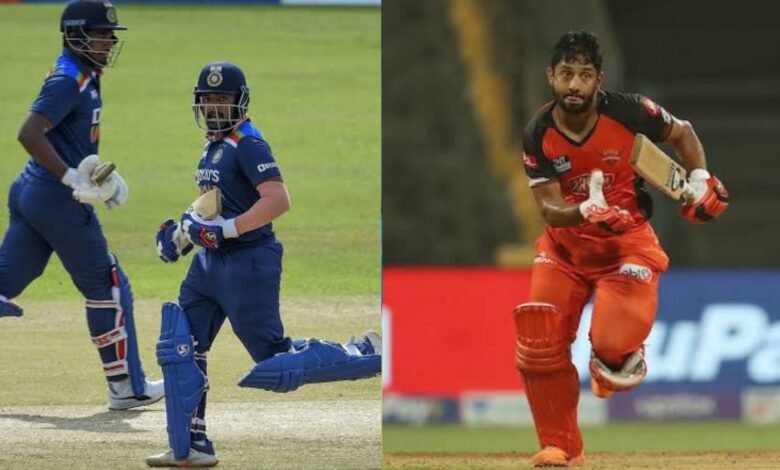 Team India's tactics in T20 cricket, especially in the batting department, have not yielded rewards in recent years. When it comes to the top order, India has made use of KL Rahul, Rohit Sharma, and Virat Kohli, all three of them whose approach is similar. As seen in other teams, a power-hitter at the top is required. An impact knock in the powerplay can help India to have a good batting inning. Hence, Rahul Dravid co. should make a few changes at the top so that better utilization of resources can happen. On that note, in this article, we take a look at three players India could try as an opener before the 2022 World Cup.
1) Sanju Samson
Sanju Samson is one player who can play at multiple slots in the batting order. It will be a big loss if Team India does not make use of his services. Apart from his flexibility, Sanju is someone who has a good base against pace and can be useful in Australia.
Moreover, the Kerala batter is popular for its impact knocks and this is exactly what India needs at the top of the order. When he gets going, Sanju becomes more dangerous and then, India can look at a big score. Therefore, India should try the player as an opener.
2) Prithvi Shaw
Prithvi Shaw is one of the players India could try as an opener before the 2022 World Cup. Shaw has a career strike rate of 147 in IPL and all it is while opening the batting.
Prithvi puts less value on his wicket and goes after the bowling right from the start. He is good against both pacers and spinners in the shortest format. The Mumbai youngster has opened batting all his life and his approach will be of good use to the men in blue.
3) Rahul Tripathi
Rahul Tripathi has done well in IPL in recent years. Like the others in this list, the Maharashtra cricketer is known for his intent. He has the necessary skills to back it, as well.
Tripathi is also an experienced campaigner. He has been in the circuit for a long time and this might just be the right time for him to make his India debut.