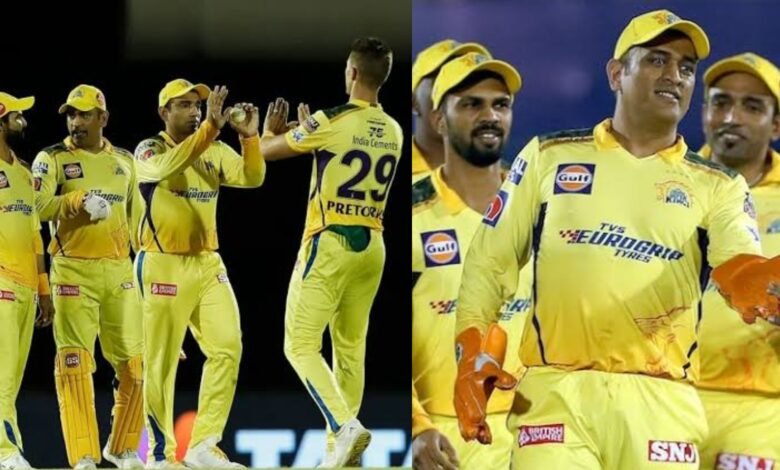 The Chennai Super Kings captaincy, after a short detour, has landed back in the lap of MS Dhoni. While that's good news for the franchise, the focus will soon shift as to who might replace the four-time IPL-winning captain. MS Dhoni is above 40 years old and even if he pushes to the maximum, the management will still have to find a suitable replacement in the next few years. There is the option of using a foreign candidate but CSK has never used the strategy before in IPL history. On that note, in this article, we take a look at three Indian cricketers who could become the CSK captain after MS Dhoni.
1) Ravindra Jadeja
Ever since Suresh Raina lost form, many had predicted that Ravindra Jadeja would take over the reins from MS Dhoni. That did happen in IPL 2022 but the all-rounder could not leave an impression. The team managed to win just two games under him and had a terrible start to the campaign. Most importantly, Jaddu's personal form also suffered due to the responsibility.
While he has given up the captaincy now, it would not be a surprise if he gets the task again after MS Dhoni retires. Now that he has already experienced the opportunity, Jadeja might be better prepared when he takes up captaincy the next time.
2) Ambati Rayudu
Ambati Rayudu is one of the Indian cricketers who could become the CSK captain after MS Dhoni. Rayudu is one of the senior Indian players who has been in the CSK camp since IPL 2018. He has won two trophies since then.
Although he does not have IPL captaincy exposure, the batter has done the job for his domestic sides. Apart from that, Rayudu is capable of bringing his own style into his captaincy. While age will be an issue, if Rayudu can keep up decent form with the bat, he will surely have a good chance.
3) Robin Uthappa
In IPL 2018, Uthappa came close to captaining an IPL team. However, Kolkata Knight Riders opted for Dinesh Karthik as the skipper. That said, Uthappa can still get that opportunity in the next few years.
Having skippered a successful domestic side like Karnataka, Robin has great experience with the task. Yes, IPL captaincy is a different ballgame but like MSD, Robin is calm on the field. This might work well for the franchise. Like Rayudu, age can be an issue but Robin can avoid those discussions if he can maintain his form and fitness.