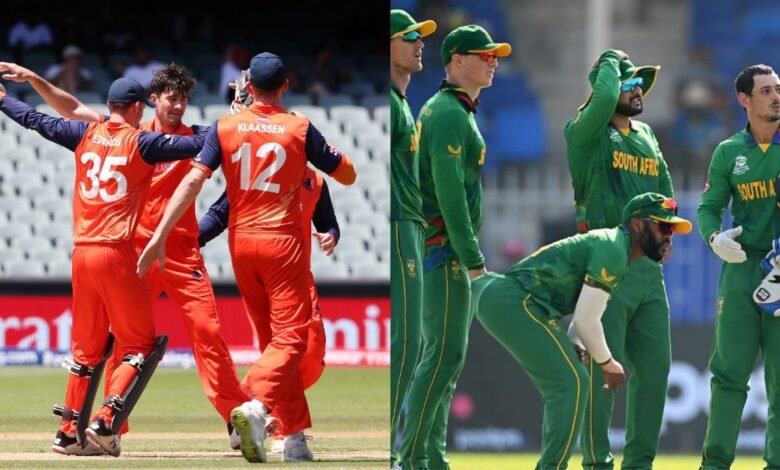 There were a lot of expectations from South Africa in the T20 World Cup. The team had a stunning squad and it was expected that they would go close to the trophy. However, after their loss to the Netherlands, it seems that their World Cup journey is over. Here, we take a look at how Twitter reacted as South Africa all but gets knocked out of the T20 World Cup.
South Africa is almost out of the T20 World Cup
The Proteas just needed a win over the Netherlands to seal a spot in the semis. A few games ago, the team managed to defeat India, one of the strongest teams in the competition. However, cut to the final day of the Super 12 stage, South Africa yet again disappointed under pressure, that too, against a lesser established cricketing nation.
The team can now be saved only by the rain gods. Pakistan vs Bangladesh game is officially a knockout and unless the match ends without a result, South Africa will have to pack their bags. A lot will change with respect to the South African cricket after this disappointment. Firstly, they might drop Temba Bavuma from the squad as he was poor throughout. Some hard calls could also be taken about the middle order.
Twitter reacts to yet another disappointing show by South Africa under pressure
Meanwhile, Twitter reacted in both extremes to this performance of South Africa. While one section sympathized with the Proteas, many users trolled South Africa for their routine flop show in pressure encounters. With South Africa losing the match, Pakistan and Bangladesh have been given an excellent chance. They just need to hold their nerves and win the game. A few days ago, this was never seen in the list of possibilities. Well, that is how this T20 World Cup has been.
Even in 2011 ODI world cup South Africa didn't qualified for Semi-final and Pakistan qualified. Oreo magic 😂 pic.twitter.com/Xxvngzhei2

— R A T N I S H (@LoyalSachinFan) November 6, 2022
South Africa have been South Africa as ever, choking again. Just the climax this World Cup needed! India already in Semis and Pakistan in with a golden chance! #SAvsNed #T20WorldCup

— Vikrant Gupta (@vikrantgupta73) November 6, 2022
Official sponsor of South Africa #T20WorldCup pic.twitter.com/MtA2NU3HvT

— NetherlanDennis (@DennisCricket_) November 6, 2022
I keep trying to convince people that South Africa's chokers tag is wrong, it is based on a very small sample.

South Africa keep responding by increasing the sample size.

— Abhishek Mukherjee (@ovshake42) November 6, 2022
1992 🤝2022

South Africa – The Rain – The misery continues in ICC events. pic.twitter.com/UWRYlqE6Xv

— CricTracker (@Cricketracker) November 6, 2022
ICC to South Africa pic.twitter.com/NTMn3g2B61

— Sagar (@sagarcasm) November 6, 2022
Do South Africa also have farmers stubble burning issue? Cuz boy, they just keep choking.

— Abijit Ganguly (@AbijitG) November 6, 2022
I love this @KNCBcricket bowling group all tournament and their spirit so much. Well deserved victory for them👏🏻👏🏻. Feel for South Africa again. Pakistan still in it. What an #ICCT20WorldCup2022.

— Ian Raphael Bishop (@irbishi) November 6, 2022
South Africa every world cup… pic.twitter.com/CJEJPAOENM

— Bengaluru Betala (@gururaj_mj) November 6, 2022