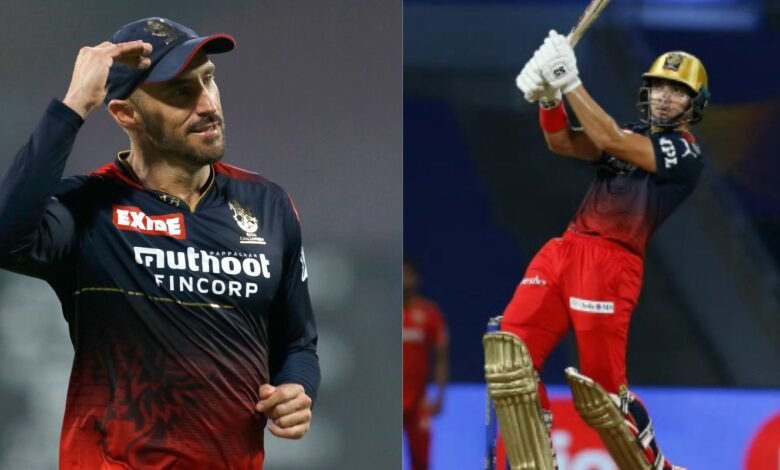 Royal Challengers Bangalore had an issue with their opening combination in IPL 2022. However, by the time the season came to an end, they had a pretty solid opening option. Nevertheless, the Bengaluru-based outfit could still try out some new options in IPL 2023. On that note, here, we take a look at two opening combinations RCB could try in IPL 2023.
1) Faf du Plessis and Virat Kohli
It was the experienced duo of Faf du Plessis and Virat Kohli who finished as the openers for RCB in IPL 2022. It would be a big surprise if Sanjay Bangar and co. make a change to this combination.
Yes, the duo are similar types of players and that could have a bearing on the overall score. However, in recent times, we have witnessed them score runs quickly and take the maximum use of the field restrictions. Even their game against spin has improved and this will further help cement this combination. Moreover, Virat is more suited as an opener in IPL and hence, this duo is unlikely to get disturbed.
2) Faf du Plessis and Anuj Rawat
Faf du Plessis and Anuj Rawat form an opening combination that RCB could try in IPL 2023. One weakness of Faf and Virat is that they could struggle against left-arm off-spinners. Opposition captains could make use of this and we might witness the likes of Axar Patel and Ravindra Jadeja finding success in the tournament.
To counter this, RCB could try out Anuj Rawat at the top. In fact, Faf and Anuj started as the openers for RCB in IPL 2022 but Anuj lost his form. His game against spin is not perfect but considering the power he has, he could be useful to take on the spinners. That said, if Virat is not opening, Rajat Patidar must play at No.4 and Maxwell at No.5, which would be uncomfortable. Therefore, Anuj opening, at least in the first few matches, is unlikely.