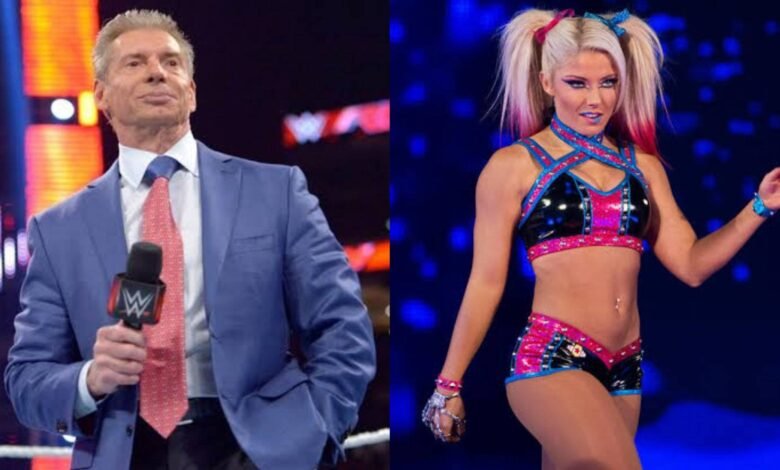 Workplace harassment has always been a bane driving strongly in several mega institutions where things go downtown and there is no one to avert them. When WWE comes knocking on the door, scenes have happened and Vince McMahon once got involved, obviously not as the one who encroaches but someone who steps up when needed. Alexa Bliss was at the receiving end though.
Vince was one ballistic with a fellow WWE star for his unprecedented behavior with Alexa Bliss that later threw her in trouble. Well, the man who got in trouble and was being asked by Vince to manage himself better was none other than Dax Harwood.
Here is what Dax Harwood had to say about Alexa Bliss and Vince McMahon
Speaking on FTR, Dax said that it was an accident where he ended up brushing shoulders with Alexa Bliss. However, Vince had a completely different opinion where he accused Harwood of touching women and that behaviour under no circumstance was to be supported. Harwood said:
"I remember we were supposed to come in and we were supposed to be very animated and happy that I won. So I come in, pretended that I was playing the trumpet or something and I was in a marching band and I march by Alexa [Bliss] and my shoulder barely brushed her shoulder, barely brushed it, I beg people to go back and watch it."
Isn't she the best? 🥰😊😍

Follow @alexablissguys for daily updates and photos of Alexa Bliss #alexabliss #WWERaw pic.twitter.com/peQGPwSgdG

— Alexa Bliss FC (@alexablissguys) December 21, 2021
"As soon as it was over, we got called into the gorilla position and Vince chewed me out and he said, 'Man, don't touch women."
Sadly, for Harwood, if what he said is to be true, then that incident set a wrong tone for the upcoming days, an incident that he still firmly believes was nothing but an accident.
Dax Harwood throwing around Jay White in your main event!

Watch #AEWCollision LIVE on TNT!@JayWhiteNZ | @DaxFTR pic.twitter.com/67jHcopYi9

— All Elite Wrestling (@AEW) September 3, 2023
He did defend himself and also explained what exactly happened citing that everyone needed to be in a very tight spot and yet bring out the very best in them. However, a few things just don't go right and maybe in this case, the grey reigned supreme.