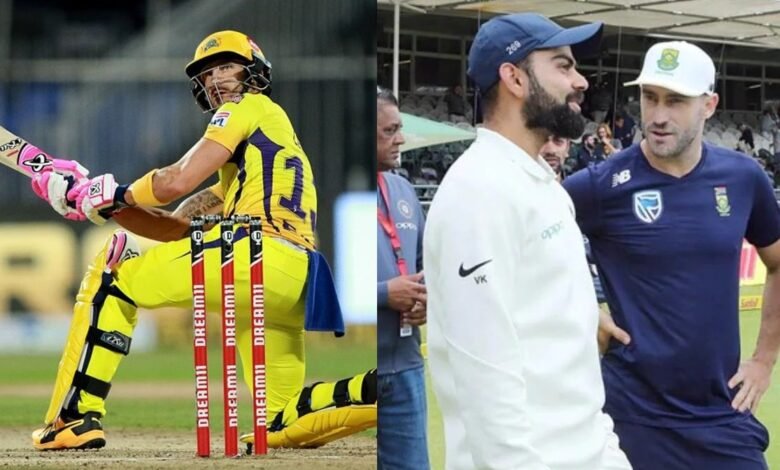 One of the most stunning deals in the first set of the IPL mega auction today was the former South African captain Faf du Plessis who was bought by RCB at a whopping price of 7 Crore INR. That's a significant increase in the salary of Faf who was getting a salary of 1.6 crore INR at his previous club Chennai Super Kings (CSK).
The reason why it's a stunning deal is because Faf du Plessis is a legend of CSK who has been a part of their title winning teams many a time and even in the last season, he was the second leading run scorer in the tournament, only two runs behind the orange cap winner Ruturaj Gaikwad.
Talking about RCB, it's a rival club of CSK and while the CSK fans completely understood the reason behind not retaining Faf as they had other players to retain, they wanted the management to go all out for Faf in the mega auction and get him back into the set up.
CSK management tried to bid for Faf du Plessis, but stopped at 3.2 crore
To be fair to CSK management, they did try to get Faf back and went into a brief bidding war with RCB, but they stopped at 3.2 crore INR and RCB, thereafter, had a bidding war with Delhi Capitals which they won and sealed Faf's services for 7 Crore.
Faf du Plessis might not be the most explosive T20 batsman in the world, even though he has a decently healthy strike rate, but the most impressive quality of Faf is that he is consistent and delivers in most of the games for his team rather than a hit and a miss.
Since the former South African captain also had an emotional connect with the CSK fans, a lot of the fans were hugely disappointed that CSK didn't buy him back. Here are the twitter reactions after Faf went to RCB at 7 Crore –
The streets will never forget
Adios, Faf Du Plessis !! pic.twitter.com/40I1OP7j6p

— ' (@Ashwin_tweetz) February 12, 2022
Welcome to the Challengers Faf du Plessis 😄😄 Faf, VK and Maxi sounds okay to me 😁 #IPLAuction #IPLMegaAuction2022

— Chloe-Amanda Bailey (@ChloeAmandaB) February 12, 2022
Faf to #RCB – wont be able to digest this for a while 😔

— Siddarth Srinivas (@sidhuwrites) February 12, 2022
Faf absolute CSK legend, Qualifier 1 knock vs SRH absolutely goated. Thanks for the memories champ.

— Prashanth S (@ps_it_is) February 12, 2022
We might not have ABD but we got Faf who will open the batting with Virat

— Aditya (@Adityakrsaha) February 12, 2022
Here you go. #RCB has a new skipper. Faf. https://t.co/4mxgaFDNLR

— Aakash Chopra (@cricketaakash) February 12, 2022
Don't want to see CSK player in HaRCB and MI team especially Faf Du plessis and Deepak chahar🚶

— Imabzkhan MSDian™ (@MSDhoniRules) February 11, 2022
Faf to RCB for 7C. Can't fathom 😭

— Srini Mama (@SriniMaama16) February 12, 2022
Faf to rcb

Csk fans now : pic.twitter.com/dPKFrjSPjP

— " (@KohlifiedGal) February 12, 2022
Hope RCB aren't planning for Faf & Virat to open together. Both aren't great vs spin. Easier for opposition to plan. Plus both right handed.

Faf has to be back up for them if Kohli is opening.

— Gurkirat Singh Gill (@gurkiratsgill) February 12, 2022