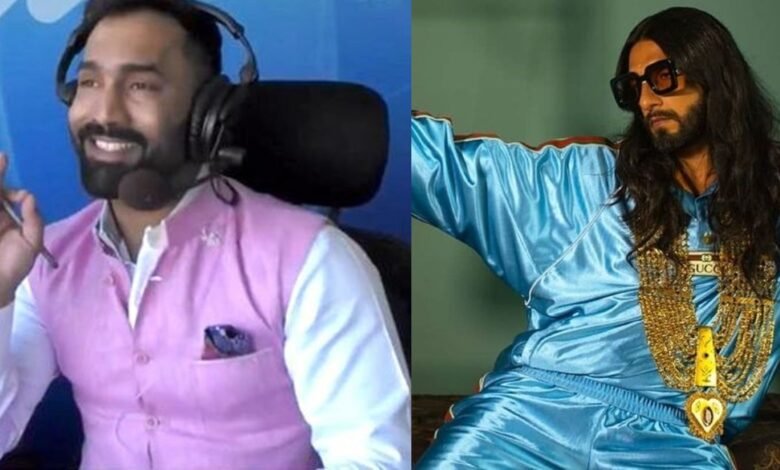 Dinesh Karthik has come up with an interesting tweet over the recent speculations that Ranveer Singh and Deepika Padukone are planning to bid for one of the two new IPL franchises that are up for sale.
Although there have been a lot of business tycoons whose names have been doing the rounds as the potential new buyers of the two new IPL franchises, the most recent names which have surfaced after the Glazers are Deepika Padukone and Ranveer Singh.
Given the fact that the potential new buyers might eventually be needed to pay Rs.4000-5000 crore to own a new IPL franchise, Ranveer and Deepika might not bid for the franchises all on their own, and it might be a partnership of two or three parties which place a bid together to own a new franchise.
Ranveer Singh is famous for his fancy dress sense in the film industry
Ranveer Singh is someone who is known for his fancy dress in Bollywood circles. He wears fancy dresses in his movies as well, but even when he attends normal Bollywood or award functions, his dresses remain a centre of attraction and there are always a lot of memes on the internet on Ranveer's dress sense.
Dinesh Karthik's tweet earlier today was also with regards to Ranveer's peculiar dress sense. Quoting a tweet that suggested that Ranveer and Deepika might be the new owners of an IPL franchise, Karthik wrote if it indeed happens, it will be interesting to see the jersey of that team.
The jerseys gonna be interesting for that team 😜 https://t.co/mH4tatYM9T

— DK (@DineshKarthik) October 22, 2021
Of course, it was a tongue-in-cheek comment made by the KKR wicketkeeper-batsman because there can't obviously be any fancy jerseys during IPL matches even if Ranveer and Deepika are the owners of a team. But Karthik's tweet certainly was quite funny, given Ranveer's dress sense over the years.
BCCI will conduct the bidding process to buy the two new IPL franchises next month, and it will be known very soon which parties will eventually own the franchises.