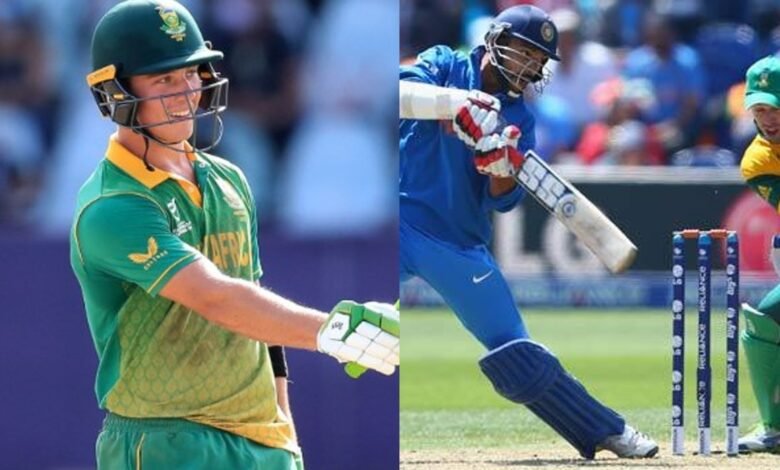 Dewald Brevis, who has been tipped as the next big thing in South Africa's white-ball cricket and whose batting style is very similar to that of the former South African great AB de Villiers, has broken the 18-year old world record of the Indian left-hander Shikhar Dhawan while playing in the ongoing U19 World Cup in West Indies.
South Africa were ruled out of the title race of the U19 World Cup in the quarter-final round itself, but they still played a couple of playoff matches after that to determine their eventual position in the super league table and Dewald Brevis scored a hundred in South Africa's last game of the tournament against Bangladesh, which was a 7th place playoff.
Brevis, in total, scored 506 runs in the U19 World Cup of 2022 at an average of over 80 with two hundreds and three fifties, which is actually one run more than the tally that Shikhar Dhawan achieved in the U19 World Cup of 2004.
Dewald Brevis will go under the hammer in the upcoming IPL mega auction later this month
There is a lot of excitement among the fans about Brevis, although he has not played a lot of domestic cricket in South Africa. His name is in the upcoming IPL mega auction, and it remains to be seen whether teams bid for him on the basis of his heroics in the U19 World Cup.
The talent of Dewald Brevis is there for everyone to see. He has got a full repertoire of shots and he can bat in different gears with a fair bit of control against both pace and spin, but he has still only proven himself at the U19 level, which is junior cricket. Giving him a big IPL contract based on his performances at the junior level will be a risk.
The style of Brevis resembles to that of AB de Villiers and that excites a lot of fans, but for franchises to place bids on the player just because his style is similar to that of a former great might not be a very fruitful idea, unless they are very sure about his overall potential as well.
However, one thing is for sure even if Brevis doesn't get an IPL contract this time around, he still has a bright future ahead of him and he will be there playing cricket at the highest level at some point of time. He is likely to be on the radar of the South African national selectors as well.