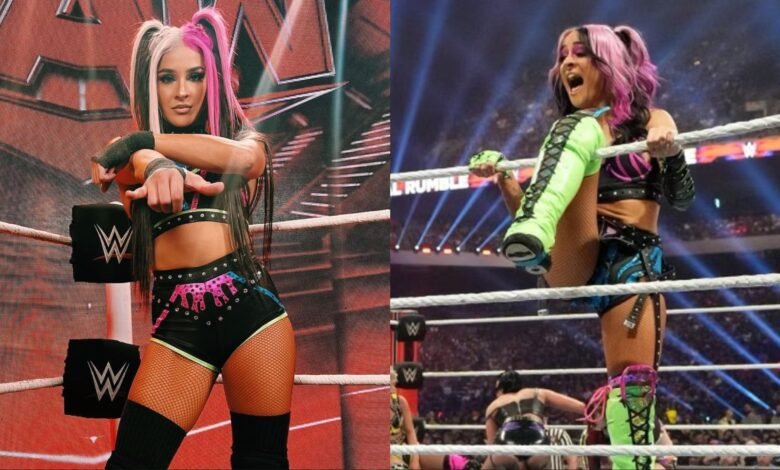 Dakota Kai had a decent outing in the ring for her Royal Rumble match where she dished out a terrific display of her strength and imposed herself in the finest of avatars only for her to be eliminated after a good spell of time.
Much to the world's surprise, however, Dakota Kai suffered a crucial injury in the game too and will be away from action for a while. However, she was seen on the ringside alongside Iyo Sky and Bayley against the latter's match-up against Candice Rae. Keeping her injury and current stint aside here are five facts that you need to know about Dakota Kai.
#1 Going international
dakota kai's gear inspiration 🎀 pic.twitter.com/s0HA9WEPOu

— MELLA LOCKDOWN. (@KOTASILENCE) January 29, 2023
Dakota Kai's original name is Cheree Georgina Crowley and she has wrestled for international wrestling brands that include the likes of Shimmer Women Athletes, Shine Wrestling, and Pro Wrestling Alliance in Sydney, with the PWWA Championship being conquered in the latest names. She also bagged the IPW Women's Championship thrice in Impact Pro Wrestling in New Zealand.
#2 Featured in a music video
After making her Pro-wrestling video in 2007. Dakota Kai also starred in a music video made by the New Zealand rock-band These Four Walls. She was seen wrestling in the video, showcasing her strength and grit.
#3 Lineage
Cheree Crowley who performs by the ring name of Dakota Kai is from New Zealand and is of a blend of Samoan and Irish heritage. However, she was born and brought up in Australia. Whenever we talk about being Samoan, the most obvious question that follows is that whether she is linked with the Rock. Well the answer is no.
#4 Influences for Dakota Kai
In this very moment, I'm King. Kota. pic.twitter.com/UFpxNp46Xx

— 𝖈𝖍𝖆𝖗𝖑𝖎𝖊𝖌𝖎𝖗𝖑 🎮 (@ImKingKota) May 31, 2022
When one asks you about your wrestling influences, the most obvious answers are Rock, Hulk Hogan, SCSA or maybe even the HBK. However, for Dakota, the answers are slightly different. Talking in an interview she said, "The main influencers of my in-ring style would have to be Hideo Itami, Finn Bálor and Daniel Bryan. I was watching them since before they were here in WWE and was blown away with the level of skill they consistently showed."
#5 What is there in the name?
Before she signed with WWE, she used to wrestle under the ring name of Evie that was inspired by her favourite pokemon Eevee. However, she later changed it to Kai when she shuffled her alliance to the WWE, to make it sound more professional and also pay homage to her Samoan heritage.