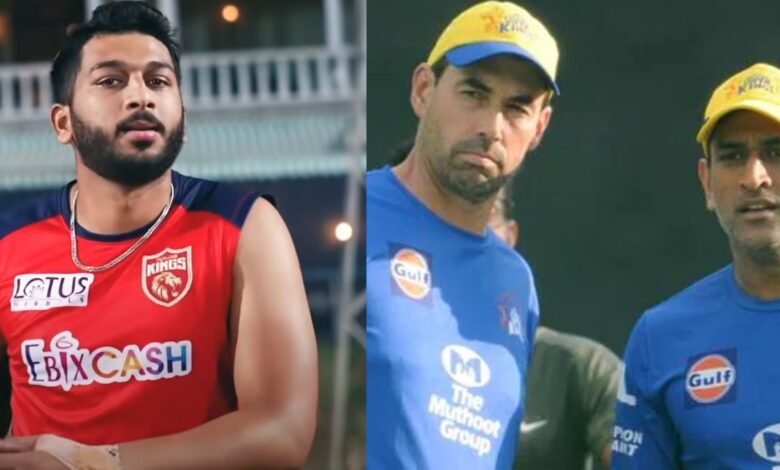 As the IPL mini-auction is getting closer and only about five weeks away, a lot of auction speculations are circulating on social media. Yesterday, it was reported by Cricbuzz that Punjab Kings are planning an overhaul of their squad and they might release three players who were key components of their squad last season.
Mayank Agarwal was one of the players that Punjab Kings had retained ahead of the IPL mega auction last year and had given him the captaincy as well. However, he has already been removed from captaincy now and has been replaced by the Indian veteran Shikhar Dhawan.
According to the Cricbuzz report, Mayank might have to go to the upcoming IPL mini-auction, as Punjab Kings are not looking to extend his 14-crore INR contract because of his underperformance last season. Another two players who might have to go to the mini-auction because of being released by Punjab Kings are Shahrukh Khan and Odean Smith.
Three big overseas allrounders are expected to be available in the upcoming IPL mini auction
Both Shahrukh and Odean were signed by Punjab Kings with huge expectations, but they didn't live up to it last season and now with all-rounders like Sam Curran, Ben Stokes and Cameron Green expected to be available in the next IPL mini auction, Punjab Kings are looking to release Odean and Shahrukh, apart from the former captain Mayank.
Since the reports surfaced on social media yesterday, the reactions came from the fans of all franchises, but the CSK fans, in particular, want their team management to buy two of the three players that the Kings are planning to release.
Since Shahrukh Khan is a local Tamil Nadu player, he will fit well in the CSK set-up and Mayank Agarwal, being a good player of spin, might also be useful for CSK in the spin friendly conditions at Chepauk.
Here are the twitter reactions on the reports of the release of Mayank, Odean and Shahrukh by Punjab Kings –
Oh yeassss.. Get in Shahrukh @ChennaiIPL .. MS replacement for next 10 years😌 https://t.co/4MBBilhaax

— Danny (@Ddnyana) November 4, 2022
Absolute poor decision if they are letting Shahrukh go…
He always bats at no5,6, and still gets good numbers ..
Could easily nurture him and use his strength in the right direction https://t.co/5ilPNDaCqr

— SR (@IamSr10) November 4, 2022
@ChennaiIPL go for sharukh please https://t.co/CikRaUdkhj

— J (@the_eyes_chico_) November 4, 2022
CSK should go for SRK and Shardul https://t.co/mZlhBbJhFw

— A K N (@im_akn1) November 5, 2022
Shahrukh redemption loading https://t.co/2kqT37MrDT

— சர்தார் சுல்தான் 😎 (@jillu_offl) November 4, 2022
take a note @ChennaiIPL https://t.co/KQgl6zDgTK

— Kirket Ekspert 🏳️‍🌈🦁 (@who__saurabh) November 4, 2022
@ChennaiIPL You have 2 jobs !! 🙏 https://t.co/LNPE42WS2G

— Shantanu 🎶 (@Shantanu630) November 4, 2022
Shahrukh Khan to CSK 💛 https://t.co/MDs4BqLMEG

— Nityesh Maheshwari 🇮🇳 (@mnityesh28) November 4, 2022