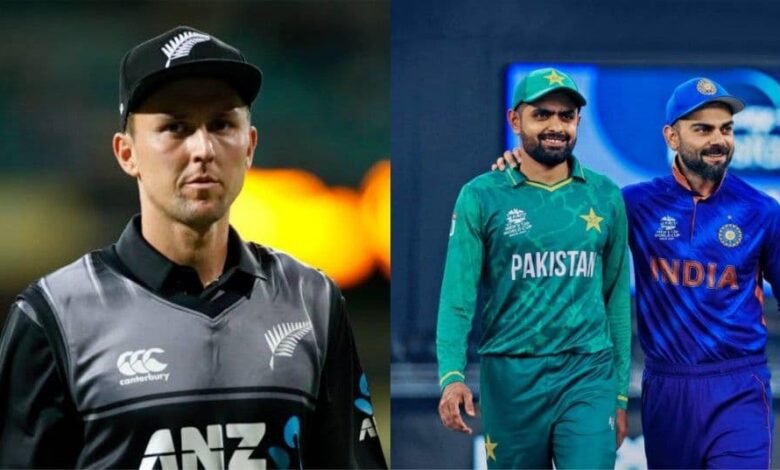 Trent Boult has warned the Indian batsmen ahead of the big T20 World Cup game tomorrow that he will try and do the same thing to them that Shaheen Shah Afridi did to them last Sunday.
In the much hyped India Vs Pakistan encounter last Sunday, Shaheen Afridi ran in and swung the new ball, removing both the world class Indian openers in the first couple of overs and landing a telling blow on India, which proved to be a match winning blow at the end.
Trent Boult, pretty much like Shaheen, is also a left arm swing bowler who can create a few issues for the right handers, but he hasn't got the same pace as Shaheen. However, Boult can still bowl in the range from mid to high 130s, which is a decent enough speed to operate with, for a genuine swing bowler.
Trent Boult is not as lethal a death bowler as Shaheen either
Boult is also not quite as lethal as Shaheen in the death overs and that is again because of the fact that he is not quite as pacy as Shaheen, but one thing about the New Zealand veteran is that he is very wily and battle hardened and the Indian batsmen will have to be careful against him.
"The way Shaheen bowled against India was amazing, but yeah India has quality batters, early wickets are the focus for us but we need to be nice and accurate of where we are trying to put the ball. Hopefully, it swings around a little bit and I can mirror what Shaheen did the other night," Boult said in the pre match press conference earlier today.
Having lost the first game against Pakistan by a decent margin, now every single game in the group stage has become a must-win game for India. They will have to win against New Zealand tomorrow and will then have to carry the momentum right through the tournament if they want to lift the title.