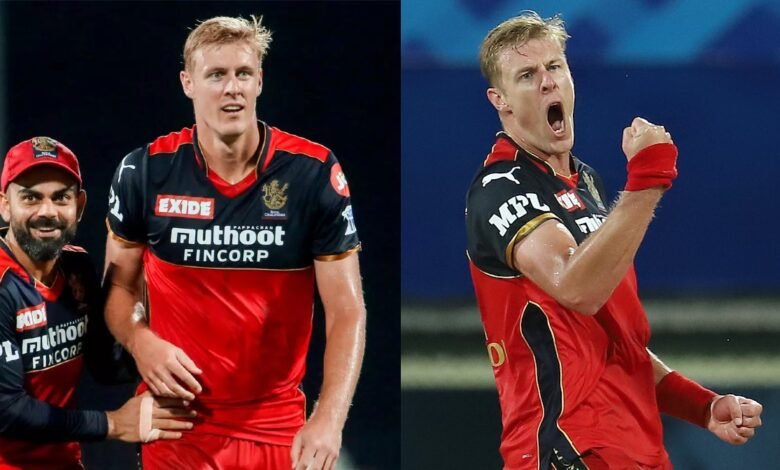 When the full list of the players for IPL 2022 mega auction came out yesterday, one significant name that was missing was the New Zealand fast bowler Kyle Jamieson. Jamieson was one of the most expensive players in last year's auction, and RCB had bought him for 15 crore INR.
The reason why RCB had spent big on Kyle Jamieson was that he didn't just give them a specialist bowling option, he was a handy batsman lower down the order as well. However, the performance couldn't quite match the expectations and Jamieson wasn't able to win RCB too many games.
While Jamieson wasn't expected to fetch a big amount in the upcoming mega auction because of his below par performances last season, he was still expected to get a bid or two from a couple of franchises because of the quality that he has, but his name is not there in the auction shortlist at all.
It has been reported that Kyle Jamieson had not registered for this year's IPL mega auction and that's why he is not in the shortlist. The reason behind it is not known yet. While bio bubble might be on the reasons because Jamieson has played a lot of cricket in the recent times and he might not want to spend any more weeks in the bio bubble for quite sometime, it might also be strategic on Jamieson's part.
Kyle Jamieson might want to register for the mini auction next year
In a mega auction where most of the top players in the world are on display, it might be possible that Jamieson doesn't attract as much interest from the franchises as he might attract in a mini auction, where the franchises might be looking to fill the specific profiles.
Even the 15 crore INR that Jamieson had got, it came in the mini auction because RCB were looking to fill the slot with a fast bowling allrounder and since they missed out on Chris Morris, they had to go for Jamieson who filled that specific profile for them.
Jamieson is currently not one of the first choice bowlers for New Zealand in T20 international cricket, but he is a certain pick in test cricket and ODIs and even finds his place in the T20 XI of the Blackcaps at times when one of their main bowlers Lockie Ferguson is not available.
The tall lanky Kiwi, however, still has to prove himself in the shortest format of the game.