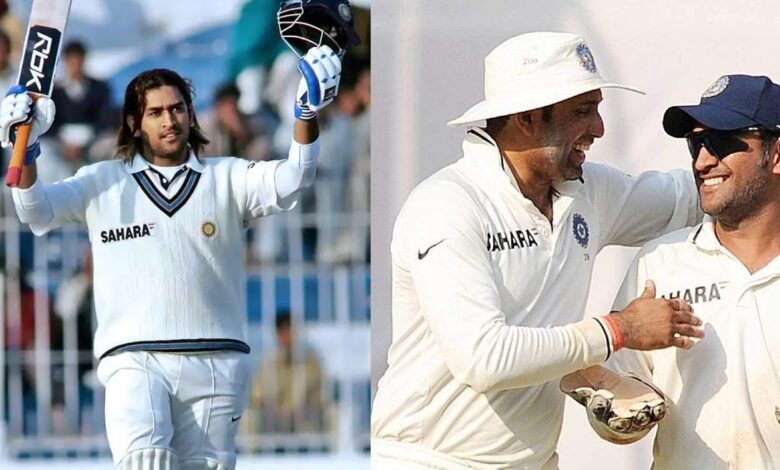 Remembering the good, old days, the former Indian batsman VVS Laxman recently shared an interesting story about MS Dhoni and his test match journey while speaking on Star Sports. Laxman revealed when MS Dhoni got his first-ever test match a hundred against Pakistan in Faisalabad, he was so elated by it that he said he would announce his retirement because he had reached the pinnacle by scoring a hundred in the hardest format of the game.
Laxman said the way Dhoni said it, the Indian players initially wondered if Dhoni was actually serious or he was just joking. As it turned out, the Indian wicketkeeper was joking because he couldn't believe the fact he scored a test match a hundred against top-quality bowlers at the international level.
Dhoni went in to bat in the Faisalabad test match with Shoaib Akhtar cranking up speeds of mid 150s and Akhtar went short at a young Dhoni straight away. Dhoni, who was probably facing that kind of pace for the first time, had to fend a couple of deliveries initially before he decided to take Akhtar on and dispatch him all around the ground with some delightful backfoot shots.
One of the shots that Dhoni played during that innings over deep square leg off a delivery that was bowled at 155 kph impressed the master blaster Sachin Tendulkar so much that he particularly recalled that shot while paying tribute to Dhoni after his international retirement last year. Sachin was the non-striker when Dhoni had hit that six off Akhtar.
"I still remember him (Dhoni) coming back into the dressing room (after his hundred in Faisalabad) and saying I am going to announce my retirement, mai hundred maara Test cricket mein, bas yaar," Laxman recalled the moment on Star Sports.
VVS Laxman played a lot of test match cricket under the captaincy of Dhoni
Dhoni scored 148 runs in the Faisalabad test match, and it was his partnership with Irfan Pathan for the 7th wicket which kept India in the game. The charismatic wicketkeeper never turned back from there, and it was only within a year and a half that he was appointed the test captain of India in 2008 after he led India to two victories in the Border Gavaskar trophy in Anil Kumble's absence.
Laxman himself played a lot of test match cricket under the captaincy of Dhoni before he eventually bade adieu to the game in 2012. The Hyderabad right-hander was a part of the Indian team which won a test series in New Zealand under Dhoni in 2009 and then drew a test series in South Africa a year later, which remains India's best performance in South Africa to date.