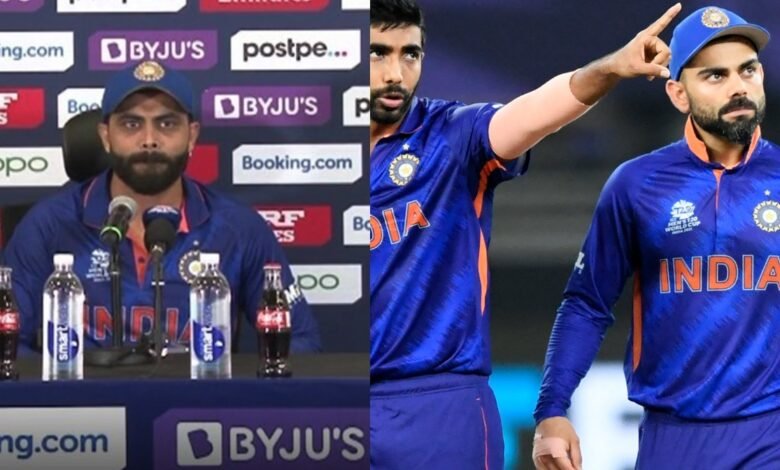 The Indian all-rounder Ravindra Jadeja was in no mood to take any pointless questions in the post-match press conference last night. Jadeja was addressing the press after putting in a man of the match performance with the ball against Scotland, which had set up a huge victory for India in the T20 World Cup 2021.
When a reporter asked Jadeja what will India do if Afghanistan is not able to beat New Zealand which India is hoping for, Jadeja said, "If Afghanistan doesn't beat New Zealand, India will pack their bags and go home. What else?"
It was apt and, at the same time, a funny response as well which got everyone in the media room chuckling a little bit.
India needed a massive victory against Scotland to take their NRR as high as possible
India needed to beat Scotland by as big a margin as possible to make sure they remain up there with the NRR and if, by any chance, Afghanistan beats New Zealand in their last group game, India will have the chance to beat Namibia and advance to the top 4.
Ravindra Jadeja set it up beautifully for India by knocking down Scotland's middle order with three important wickets while bowling a very economical spell as well.
Jadeja hadn't had a great time with the ball in this T20 World Cup before the Scotland game and it might have been because he had to bowl second in all the games and dew has been a major factor in the second innings which has made a spinner's job really difficult.
However, bowling first against Scotland, Jadeja was in his zone as the surface was offering a little bit of grip and spin as well. Odd ball was a straight arm ball, while the odd ones were holding their line and it was difficult for the Scotland players to deal with it.
"Toh phir aur bag pack karke ghar jayenge, aur kya"😂🤣 pic.twitter.com/V6DE71UcM0

— Jayesh (@jayeshvk16) November 5, 2021
If India, somehow, manages to qualify to the semi-finals, Ravindra Jadeja is going to be a very important player with both bat and ball in the knockouts. With Jadeja in form, India looks quite a balanced side.