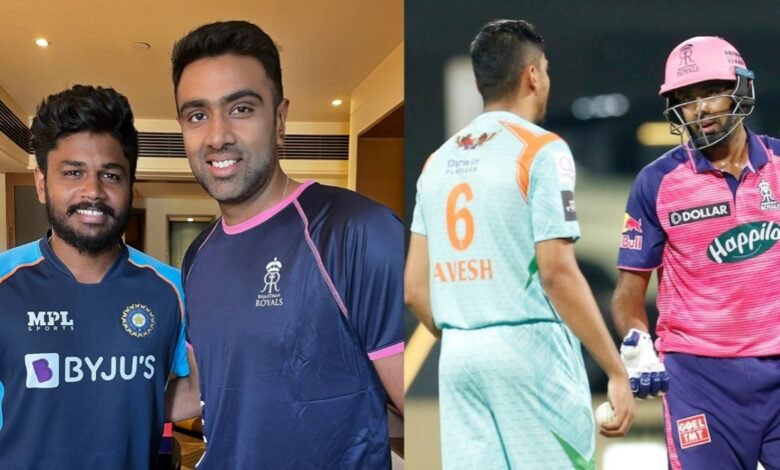 The Rajasthan Royals captain Sanju Samson has revealed that Ravichandran Ashwin retiring himself out in the middle of the Royals' innings in the last night's IPL game against Lucknow Supergiants is something that the whole Royals squad had discussed even before the tournament started.
According to Sanju Samson, the Rajasthan Royals think tank had anticipated that there might occur a scenario in the tournament where a batsman sitting out waiting to bat might be a better bet for the team than the batsman batting out there at that point of time and in case such a scenario occurs at any point, the decision of retiring the unbeaten batsman out voluntarily could be taken.
Sanju Samson had sent Ravichandran Ashwin ahead of Riyan Parag against LSG
In yesterday's game against LSG, Ravichandran Ashwin was actually sent ahead of Riyan Parag by the Royals management as they wanted someone to stabilise the innings before Parag could play the big shots towards the end, but Ashwin batted for quite a bit of time and eventually, there arose a situation where Ashwin might have batted the whole innings if he had not retired out.
The Royals management and Ashwin himself realized that it was time Parag got out there and played some big shots for the team because it was needed and just to ensure that Parag got to the crease, a collective decision was made by the management and the player himself that the player would retire out and the next batsman would go in.
Next batsman was Parag and he was actually able to hit a six for Rajasthan Royals out of the three balls that he faced which helped Royals get past the score of 165 on a pitch which was slightly on the slower side, but was still a decent surface to bat on. Rajasthan eventually won the game by 3 runs, so that six hit by Parag eventually had a great significance in the context of the game.