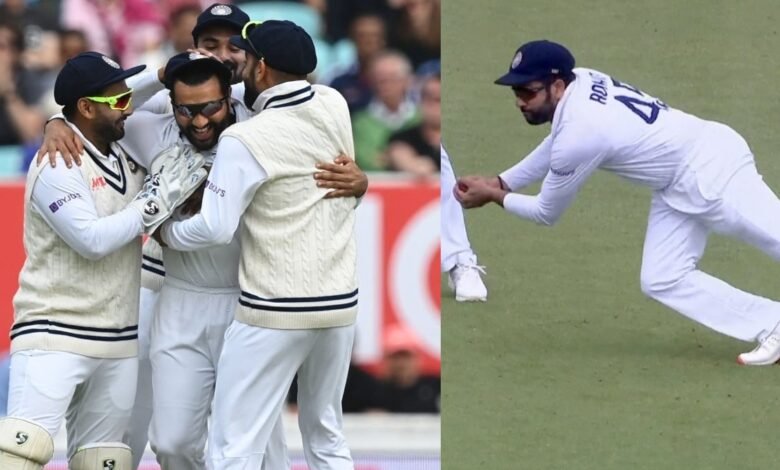 Rohit Sharma is the vice-captain of the Indian cricket team in the ODI and T20I formats of the game. He has made a name for himself with his top-quality performances in the shorter formats of the sport. But since 2019, Rohit has also proven himself as one of the best Test cricketers in the world. He has started to open the batting for the Indian cricket team in Test matches as well.
The right-handed batsman played a pivotal role in the Indian cricket team's journey to their maiden ICC World Test Championship Final. Apart from playing big knocks for the Indian cricket team at the top, there is one more skill that Rohit Sharma has seemingly mastered. It is a very important skill, especially in the longest format of the game.
Rohit Sharma has been a reliable fielder in the slip cordon for the Indian cricket team
Unlike ODIs and T20I matches, the ball swings more in the Test format of cricket. Especially in countries like England and New Zealand, there is a lot of swing. Hence, there are high chances of batsmen edging the ball. There is a slip cordon in place in almost every team, and the team's best slip catchers get an opportunity to field at slips.
Generally, the new batsmen have a tendency of edging the ball. In case the fielders are not so quick to react, the chances are high that the catch will be missed, and also there is a possibility that the ball travels to the boundary rope. Thus, there is a need of specialists when it comes to slip-catching. If the fielders in the slip cordon drop catches, the opposition batsmen can play big knocks.
Video of Rohit's slip-catching goes viral on Twitter
Recently, a Twitter user named Abhay posted a video on Twitter featuring a compilation of all the catches taken by Rohit Sharma.
One can note that most catches are in the slip cordon. This shows how underrated Rohit is as a slip catcher. He has quickly become one of the most reliable slip fielders for the Indian cricket team in the Test format.
Rohit Sharma's All Catches in 2021 @ImRo45 pic.twitter.com/z56nViD22d

— Abhay (@TheRampShot) September 6, 2021