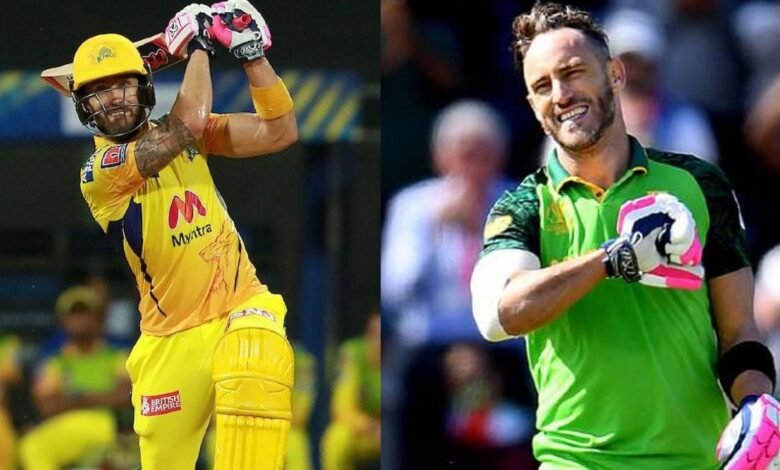 Former South African captain Faf du Plessis has revealed that while playing for the Chennai Super Kings (CSK) in the last season of the IPL, he had decided that he had to finish as one of the three leading run-scorers in the tournament, and he ended up achieving it.
Faf du Plessis actually had the opportunity to finish as the leading run-scorer of the IPL and win the orange cap, but he fell short by a margin of just 2 runs and finished second in the list behind his own teammate Ruturaj Gaikwad.
Recently on the podcast "Lessons from the world's best", Du Plessis was speaking to the fellow South African Paddy Upton who was also the assistant coach of India's World Cup winning team of 2011. Opening up to Paddy, Du Plessis admitted that showing his worth to Cricket South Africa (CSA) was also one of his aims during IPL 2021.
"My positive voice was I want that Orange Cap. Cricket South Africa, I just want to show you how good I am still if you have forgotten it," Du Plessis told Upton. Du Plessis had some disagreements with CSA top brass earlier this year, which led to his test retirement as well as his exclusion from South Africa's T20 World Cup squad.
CSA wanted Faf du Plessis to be available to play for them the whole year
CSA wanted Du Plessis to be available to play for South Africa throughout the year, while Du Plessis wanted to ply his trade in the franchise leagues around the world and pick and choose his games to play for South Africa. With CSA not ready to let Du Plessis have his way, the veteran decided to give up Test cricket altogether, to open up more space for himself in the calendar.
However, with Du Plessis retiring from test cricket, CSA then went ahead and dropped him from the white-ball squads as well, for which he was available for selection. According to Du Plessis, his exclusion from South African white-ball sides acted like a source of inspiration for him, as he made it a point to prove to CSA how good he is.
CSA had to take a lot of criticism for overlooking Faf du Plessis for the T20 World Cup, but the Proteas ended up performing decently in the tournament even without the services of the former captain. Although they couldn't qualify for the semis, they beat teams like England and West Indies and were eliminated only on the basis of Net Run Rate (NRR).