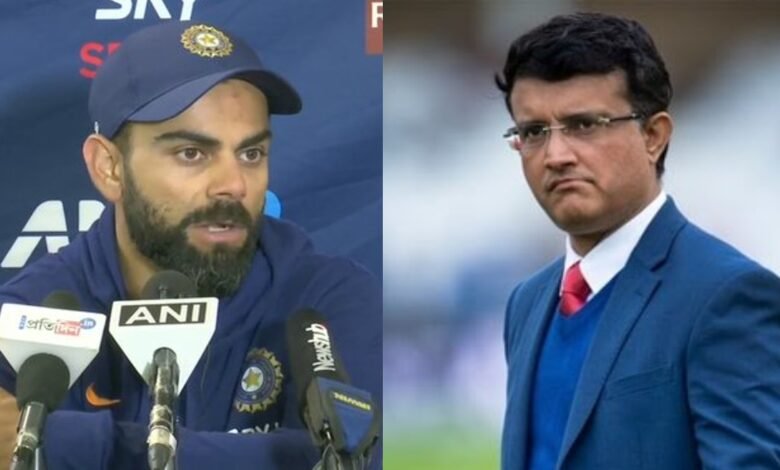 Indian test captain Virat Kohli has denied the comments of the BCCI president Sourav Ganguly where he had said that Kohli was requested by the BCCI not to resign as the T20I captain, but he resigned, which then led to the decision of selectors removing him as ODI captain as well.
Kohli talked to the media for the first time since his removal as ODI captain and he clearly stated that the things that have been said about the circumstances in which he left the captaincy are not accurate, because when he conveyed to the board that he wanted to leave T20I captaincy, the board actually welcomed the decision.
Kohli revealed that the board told him that his decision was a "progressive" decision. At no point of time did the BCCI president give him any hint whatsoever that they wanted him to continue as T20I captain of India.
This has now created a strange situation in Indian cricket, where an Indian captain has basically completely contradicted the statement of the BCCI president, who only a couple of days ago said that the board had no plans to change the white ball captaincy if Kohli hadn't resigned.
After Virat Kohli's statement, the fans are now demanding a clarification from BCCI as to how the BCCI president tried to set a completely false narrative when in reality the board actually welcomed Kohli's resignation from T20I captaincy and used it as a stepping stone to sack him as ODI captain as well.
BCCI might release a statement on comments made by Virat Kohli
It is being reported that BCCI might come with a statement by evening to clarify things on the matter, but the board at the moment has to take severe criticism from the fans. More than the sacking of Kohli as a captain, the fans are angry about the manner of sacking and the build-up to it.
Virat Kohli also insisted in the press conference that he had let the board know at the time of his resignation as T20I captain that he wanted to continue as the ODI and the test captain.
Twitter users, who were a little itchy anyway that BCCI had announced Kohli's removal as captain with a tweet and not with a tribute as one would expect for an outgoing skipper, lost their temper as they heard the entire saga from Kohli himself. Here is how Twitter reacted at Kohli's press conference –
The only guy seated in this picture is our Cricket maestro Baby Shah, the recently annointed Secy BCCI. All other honchos of BCCI including Dada Ganguly are standing like his servants. This gang has sacked Kohli as ODI captain! pic.twitter.com/SgYJGZ8RjV

— Prashant Bhushan (@pbhushan1) December 15, 2021
"I was never told that I should not leave T20I cricket captaincy" – Virat Kohli

Sourvav Ganguly: I personally requested him (Kohli) not to give up the T20I captaincy

Niceeee, very nice.#SAvIND

— Rohit Sankar (@imRohit_SN) December 15, 2021
Be it captaincy or coaching,every time Rahul Dravid takes an important role in Indian cricket team,he has to deal with a mess involving Sourav Ganguly !

He'd be like – pic.twitter.com/LyAr6dVgQ1

— Shivasis Mohanty (@DrShivasis) December 14, 2021
Told long before. Repeating it again. Never, ever take Ganguly's comment on face value. Of all the BCCI presidents nobody has lied as much as him.

— Venkata Krishna B (@venkatatweets) December 15, 2021
Rubbishing Saurav Ganguly's claims, Virat Kohli says: "I was never told that I should not leave T20I cricket captaincy."

I'd trust Kohli over Ganguly any day.

Especially when one is playing his heart out for India and the other is working under Jay Shah#ViratKohli

— Parth MN (@parthpunter) December 15, 2021
Virat says he was never told to not leave the T20I captaincy by anyone in the BCCI. Sourav Ganguly had earlier said he had asked Virat not to quit captaincy in T20s. Surely, they both are not on the same page. #ViratKohli

— Rahul Rawat (@rawatrahul9) December 15, 2021
Virat Kohli has emerged as the one lone Man in the corrupt Indian cricket ecosystem.

Sourav Ganguly has shamed himself. BCCI, is a bunch of jokers. Liars.

— Sanjay Jha (@JhaSanjay) December 15, 2021
2001 : Sourav Ganguly is regarded as one of the greatest white ball batsmen for India

2011 : Sourav Ganguly is regarded as one of the greatest leaders in Indian cricket

2021 : Sourav Ganguly will be considered as one of the greatest liars in Indian cricket pic.twitter.com/Ze3zOOLtjL

— Arnav Singh (@Arnavv43) December 15, 2021
Virat kohli press conference exposes the BCCI officials and Saurav Ganguly !! This is not good for Indian cricket. 😒 #BCCI #sauravganguly #viratkholi pic.twitter.com/8eDktHFWRM

— Veer (@VeerTalks) December 15, 2021
Nothing just Ganguly and Jay Shah watching everything happen to Indian cricket team: pic.twitter.com/EceHKkWtBv

— Gems Clouderson☁️🌧️||🇮🇳ICT🇮🇳|| (@ImCloud_lover) December 14, 2021