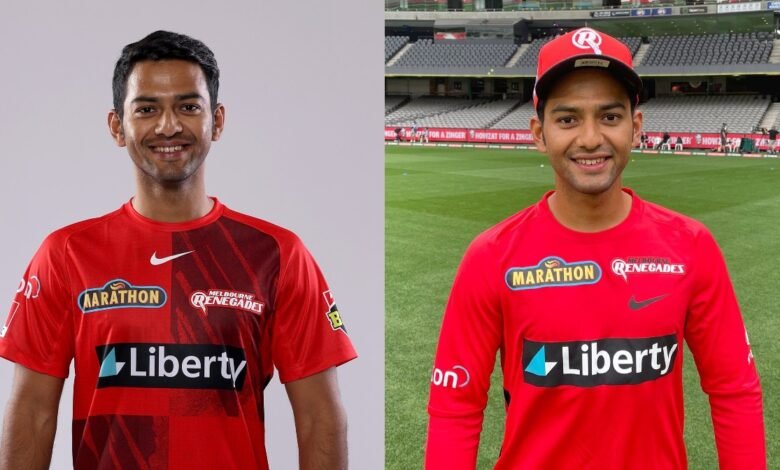 Earlier today, Unmukt Chand made his debut in the Big Bash League. Thus, he became the first Indian male cricketer to play in the competition. Of course, he was picked as a representation from the USA. In this article, we take a look at how Twitter reacted as Unmukt Chand becomes the first Indian male cricketer to play in BBL.
Unmukt becomes first Indian male cricketer to play in BBL
One of the shocking decisions that Indian cricket saw in 2021 was when Unmukt Chand decided to retire. The former U19 Captain, who helped India lift the trophy, decided to relocate to the USA to pursue opportunities there. For a player who was once considered as the future of Indian cricket, it was tough to see him leave the country for many.
Nevertheless, the Delhi lad is exploring opportunities across the globe. He is consistently playing games in the USA, something that was not possible in India. In those fixtures, the batsman is doing well at the moment. A few weeks ago, Melbourne Renegades announced that they had signed up Unmukt Chand. However, the player did not get an opportunity till now. That said, for the encounter against Hobart Hurricanes, Unmukt was named in the XI.
Twitter reacts to Unmukt's debut
Melbourne Renegades were chasing a total of 183 and they got off to a good start. Unmukt Chand walked out to bat with the Renegades needing 45 runs from 31 deliveries. The player tried his best but in an effort to enforce the situation, he lost his wicket. He made six runs off eight deliveries and was caught in the deep of Sandeep Lamichhane's bowling. Despite Aaron Finch being at the wicket, Renegades failed to win the game. They are now at the bottom of the points table and it will be hard for Unmukt to get another chance. Meanwhile, here is what Twitter had to say about Unmukt's debut outing in BBL.
Unmukt Chand becomes the first India cricketer to play in the men's Big Bash League 🏏

He makes his tournament debut for Melbourne Renegades!

Chand had retired from Indian cricket in 2021.#BBL11 pic.twitter.com/D9GWpnvQ5z

— ESPNcricinfo (@ESPNcricinfo) January 18, 2022
In the history of @BBL, Unmukt Chand became the first Indian male player to make debut in BBL ❤️
Congrats young champ @UnmuktChand9 ! Hope you have a better days coming man 💗
What a sight of seeing our skip @Sandeep25 bowling first ball to debutant 🇳🇵🧿 pic.twitter.com/vWD49BKXs4

— Sagyan Dhakal (@ImSagyan18) January 18, 2022
Why is there so much fuss about Unmukt Chand batting in BBL!
It's not a romantic or extraordinary story by any stretch of imagination

— Dr Sagar Garg (@DrGumsNProbes) January 18, 2022
Australia keeps discovering Unmukt Chand.

Just like Neil Armstrong did. https://t.co/0WYd1mqYPt

— Abhishek Mukherjee (@ovshake42) January 18, 2022
He's away….
Huge roar in the crowd as@UnmuktChand9 gets his first BBL Run. #GETONRED @RenegadesBBL pic.twitter.com/luFbxGghkV

— Unmukt Chand FC Global (@UnmuktChand9FC) January 18, 2022
Really want Unmukt to do well.

Dude hasn't played a game in the whole tournament till now and will be called out by morons if he fails today cuz he tweeted that

— Robin (@robin_rounder) January 18, 2022
Unmukt Chand did the team thing trying to clear the boundary. Not the ideal scenario to come into with only 5 overs left and chasing quick runs. Let's not make any hasty judgements. Let's remember he still made history being the first Indian player to play in the BBL #UnmuktChand

— Clint Stevens (@clintstevens123) January 18, 2022