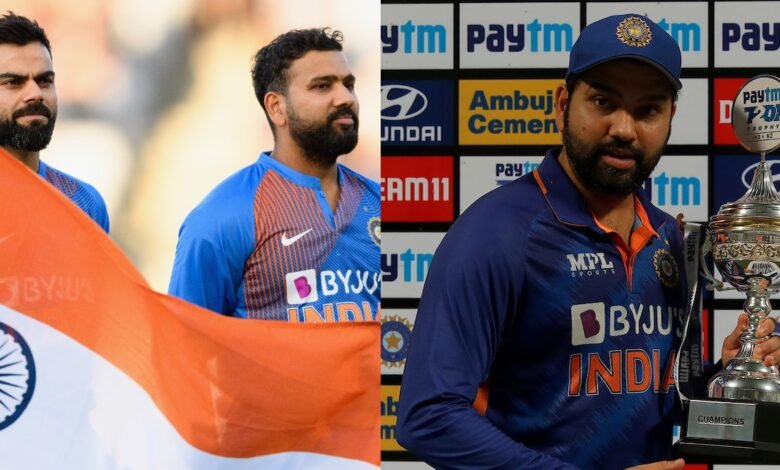 On Wednesday, BCCI made two important announcements. Firstly, the Test squad for the three-match series against South Africa was selected. The board also announced that Rohit Sharma would serve as India's T20I and ODI captain from now on. In this article, we take a look at how Twitter reacted after Rohit Sharma gets appointed as India's ODI captain.
Rohit Sharma gets appointed as India's ODI captain
Before the 2021 T20 World Cup, Virat Kohli had announced that the event would be his last as India's T20I captain. After the competition, Rohit Sharma was announced as the captain. He even led in the T20I series against New Zealand at home. BCCI has now decided that Rohit would also take over the ODI captaincy duties from Virat Kohli. It should be noted that Virat had mentioned that he would be quitting only as the captain of the T20I Team. BCCI has not made an announcement regarding the vice-captaincy duties for the ODI Team. KL Rahul was Rohit's deputy in the T20 series.
Nevertheless, as many experts felt, it would be wise to hand over captaincy duties of the entire white-ball formats to one individual. With this, Rohit Sharma will have two immediate assignments to complete. While the T20 World Cup will happen this year, the important task is to do well in the 2023 50-over World Cup that will take place in India.
Twitter reacts to the development
At the moment, the Indian Cricket Twitter is largely divided into two sections. While one group contains fans of Virat Kohli, the other group consists of Rohit Sharma's fans. Hence, with the announcement of Rohit Sharma becoming ODI captain having been made, Twitter has gone into a frenzy. There are opinions emerging out of every corner regarding the decision taken by the BCCI. Below, we take a look at a few Twitter reactions in this regard:
The All-India Senior Selection Committee also decided to name Mr Rohit Sharma as the Captain of the ODI & T20I teams going forward.#TeamIndia | @ImRo45 pic.twitter.com/hcg92sPtCa

— BCCI (@BCCI) December 8, 2021
Congratulations, #RohitSharma #TeamIndia pic.twitter.com/BnvidEaP3m

— Kartik godara (@Kartik_GOD_ERA) December 8, 2021
Beginning of a new era for India men's limited-overs cricket.@ImRo45 @imVkohli #NewCaptainForIndia#TeamIndia 🇮🇳 pic.twitter.com/bcq4PuiIk6

— Veeraraja_offl (@Hitman_veera) December 8, 2021
What still can't believe it #RohitSharma is the new captain bcoz #ViratKohli has no trophy!

Just wow @BCCI and senior committee you should be ashamed of removing a captain whose record in ODI is marvellous!

Change your name from BCCI to BCCIPL becoz that's how team is selected!

— Deepak Patade (@ImDeepak13) December 8, 2021
Key qu -did #ViratKohli quit #ODI Captaincy or has he been dumped?!

If #RohitSharma has been made ODI Skipper despite Virat wanting to continue, it may create friction in #TeamIndia dressing room.

— rajan mahan (@rajanmahan) December 8, 2021
Rohit Era Starts Now 🔥#RohitSharma pic.twitter.com/My9CO7aue1

— 𝛣 ⌲ (@DeathWiishh) December 8, 2021
I wasn't believing Kohli to be replaced in ODI's at least. Yes Rohit took over t20s captaincy. It was fine. But the way Kohli had been leading in ODI's specially, for me it seems ridiculous to replace him. Don't know what's running through the minds of Management 🤷
#RohitSharma

— صفوان 🇵🇰 (@Boyxtroverted) December 8, 2021
Congratulations rohit sir for T20I and ODI #captaincy and TEST CRICKET vice captaincy #RohithSharma #RohitSharma

— NavyaRajputMewar (@MewarNavya) December 8, 2021
Rohit sharma appointment as team india's new captain (for ODI) ..
Do u think its a right decision ? Or captaincy should have given to someone younger like KL or Pant ?#RohithSharma #BCCI #ViratKohli #RohitSharma

— Rupesh 🇮🇳 (@sethstarktech) December 8, 2021
#rohitsharma has been appointed as new #ODI captain! Probably I must be the only #kohli fan who is feeling happy right now! and kohli will definitely be back In his position ie.. the best batsman In the world as he is free from the limited over captaincy now #bcci

— AbbasLesn🇮🇳🇮🇳🇮🇳 (@AbbasLesnar2) December 8, 2021
Captain Rohit Sharma ❤️😭@ImRo45 #RohitSharma pic.twitter.com/FHIsLS0i8T

— [email protected]øyTh!ru (@crazy_boy_thiru) December 8, 2021
Silent assassin pic.twitter.com/yCSeHrhphL

— 🇮🇳🇮🇳Bharat Army 🇮🇳🇮🇳 (@BhartArmy) December 8, 2021