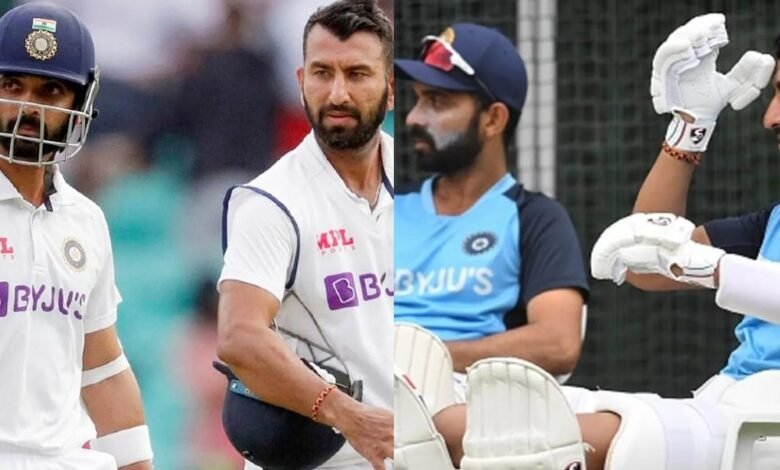 Both Ajinkya Rahane and Cheteshwar Pujara have been named in their team's respective squads for the upcoming Ranji Trophy. Incidentally, the duo will clash on Day 1 of the Ranji Trophy. In this article, we take a look at how Twitter reacted as Pujara and Rahane are set to clash in the first match of the Ranji Trophy.
Pujara and Rahane are set to clash in the first match of the Ranji Trophy
Saurashtra, Mumbai, Goa and Odisha will play each other in Group D of the upcoming Ranji Trophy. On February 17th, the first game of this group will be between defending champions Saurashtra and the most successful Ranji side Mumbai. Hence, we could see Pujara and Rahane playing against each other so early in the tournament.
Meanwhile, India will be a part of a Test assignment against Sri Lanka at home from the end of February. After a dismal show in South Africa, both Rahane and Pujara are set to be dropped from the team. They had been backed for a long, but after India lost the series to South Africa, it is certain that the management will take a few bold decisions. The likes of Hanuma Vihari and Shreyas Iyer are waiting in the wings and this will be the best time for the management to start the transition era.
In the Ranji Trophy, Ajinkya Rahane will play under the leadership of Prithvi Shaw while Pujara will play under Jaydev Unadkat. The fact that both have been named in the squads means that the duo could be expecting an axe.
Twitter reacts to the news
Just a few years ago, Pujara and Rahane were un-droppable names in the Indian Test Team. However, in a few days, the duo will clash in a domestic tournament. Unless they perform extremely well in it, a comeback is difficult. Meanwhile, here is what Twitter had to say about the upcoming Rahane-Pujara faceoff.
Defending champions Saurashtra will take on Mumbai in their Ranji Trophy opener in Ahmedabad from February 17. Pujara and Rahane to be in opposite teams. Five day quarantine for all players upon arrival #RanjiTrophy

— Bharat Sharma (@sharmabharat45) February 8, 2022
Pujara and Rahane on 17th February. #RanjiTrophy https://t.co/Di5PFYQotY pic.twitter.com/gISQRYk4OD

— Sanchit Desai (@sanchitd43) February 8, 2022
Ajinkya Rahane will be playing upcoming Ranji trophy for Mumbai under Prithvi Shaw and Cheteshwar Pujara will be playing for Saurashtra under Jaydev Unadkat.
That's some good news, they should play domestic cricket to get their form back.#INDvSL | #INDvsSL | #RanjiTrophy

— Paritosh Kumar 🏏 (@Paritosh_2016) February 8, 2022
Both Cheteshwar Pujara and Ajinkya Rahane endured a dip in their returns facing lengthy Test match attacks in extreme conditions, not Ranji attacks on Indian pitches. The selectors, and this especially in the case of Rahane, shouldn't bring them back until they see any signs of

— KASHISH (@crickashish217) February 8, 2022
All The Best "Ajinkya Rahane" & "Cheteshwar Pujara" For Ranji Trophy 2022 🙂#RanjiTrophy @BCCIdomestic pic.twitter.com/52rC1OieAc

— Laksh Sharma. (@im_laksh_18) February 6, 2022
Rahane should be happy with his selection in Ranji team. Forget captaincy

— Karan Patel (@karannpatelll) February 8, 2022
This edition of the Ranji Trophy will be quite an eventful one with Rahane playing under Shaw and Pujara playing under Unadkat.

— Prabhanjan Badami (@PABadami) February 8, 2022
Oh. Hopefully kuch acche MO players and spinners nikal ke aayein. Sarfraz was terrific in the last season I assume. Also good chance for the likes of Rahane and Pujara to get their mojo back in Ranji.

— Harshit Anand (@imHarshitAnand) January 28, 2022