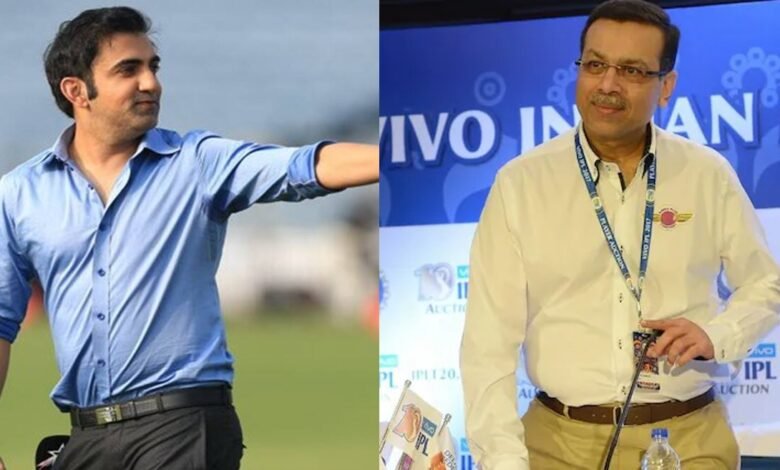 Former Indian opening batsman and two-time World Cup winner Gautam Gambhir has been appointed the mentor of the Lucknow IPL franchise, which only recently also confirmed the appointment of Andy Flower as the head coach.
Lucknow franchise is owned by Sanjeev Goenka who has had the experience of running an IPL team in the past as he owned the Rising Pune Supergiant for a couple of years in 2016 and 2017 when CSK and Rajasthan Royals were banned from the league.
Even when he was the owner of RPSG, Goenka was always very firm and clear in his decision-making and it was only after one average season, he had sacked India's greatest ever limited-overs captain MS Dhoni to give the captaincy duties to Steve Smith.
Goenka, in his second stint, has now turned to two outstanding and proven leaders in Andy Flower and Gautam Gambhir, both of whom have delivered results in leadership roles in the past.  Gambhir is one of the few three captains in the history of the IPL who have won two or more IPL titles, while Flower has got a wealth of coaching experience both at the international and the franchise level.
The news of Gambhir's appointment as Lucknow mentor was broken by the Indian journalist Boria Majumdar earlier today.
Big breaking- @GautamGambhir appointed mentor of the Lucknow Franchise. Listen in. pic.twitter.com/itkJvAudau

— Boria Majumdar (@BoriaMajumdar) December 18, 2021
Equation between Andy Flower and Gautam Gambhir will be interesting to see
Only issue that might occur with both Gautam Gambhir and Andy Flower in the same dressing room is that both of them have been authoritative leaders and would want a fair bit of control over the decision-making.
Since this is the first year of the Lucknow franchise in the league, plenty of decisions have to be made regarding the construction of the team and the franchise would want to define the roles of Gambhir and Flower clearly to make sure no power tussle takes place at any stage.
After his appointment, Gambhir released a statement saying that the spirit to be a winner at the highest level is still there in him, and he is thankful for the opportunity that has been given to him to contest for the "soul of Uttar Pradesh".
Gambhir, since his retirement as a player a couple of years ago, has mostly been involved with television commentary and punditry. This is the first time since his retirement as a player that he is going to hold some sort of position in the support staff of an IPL team. Here is how Twitter reacted at Gambhir's appointment as Lucknow mentor –
Lucknow have signed two big names:

Head Coach – Andy Flower.

Mentor – Gautam Gambhir.

— Mufaddal Vohra (@mufaddal_vohra) December 18, 2021
I highly appreciate Goenka's step to give Gautam Gambhir, the mentor role. He is clearly a very good talent scouter, and we might see many new faces under him.

— Shivani Shukla (@iShivani_Shukla) December 18, 2021
And so @GautamGambhir has another shot at the @IPL trophy with the Lucknow team. He is named as mentor, almost four years after falling out with Delhi and quitting captaincy. Rest assured, you can see a real good side and competitive spirit.

— G. S. Vivek (@GSV1980) December 18, 2021
BIG W for Lucknow! Gautam Gambhir appointed as the mentor.#IPL2022

— ︎ ︎ ︎ ︎ ︎ ︎ ︎ ︎ ︎ ︎ ︎ ︎ ︎ ︎ ︎ ︎ ︎ ︎ ︎ ︎ ︎ ︎ ︎ ︎ ︎ (@halfbloodpkb) December 18, 2021
Gautam Gambhir has been appointed as Mentor of Lucknow franchise of IPL,
IPL Franchise Lucknow
Gautam Gambhir ( Mentor)
Andy Flower ( Head Coach) #IPL2022 #Lucknow

— Cricket Speakx  (@Cricket_Speakx) December 18, 2021
Andy flower appointed as the head coach and Gautham Gambhir appointed as the mentor of the lucknow franchise. #CricketTwitter #IPL2022 #LucknowIPLTeam

— Srujan Panda (@PandaSrujan) December 18, 2021
Gambhir is mentor of Lucknow team🤢🥲.

— Chahat(71st on the wayy) (@Chahat_one8) December 18, 2021
Goenka owner and Gambhir mentor
Rivalry ended with MI now Lucknow is our new rival 😂 https://t.co/hIT0QNguQc

— Aumbeti Roydo (@roydoaumbeti) December 18, 2021
The fire to win a contest still burns bright inside me, the desire to leave a winner's legacy still kicks me 24×7. I will not be contesting for a dressing room but for the spirit and soul of Uttar Pradesh," Gambhir said. (2/2)#IPL2022 #LucknowIPLTeam

— Kushan Sarkar (@kushansarkar) December 18, 2021