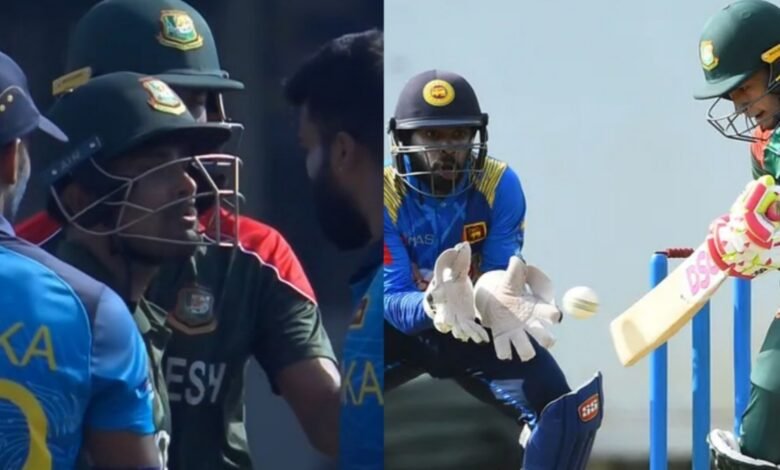 Bangladesh and Sri Lanka are playing the third game of the Super 12 stages. The teams, which share a competitive rivalry in recent years, had done well to qualify to this stage. In this article, we take a look at how Twitter reacted to the incident in which Bangladesh and Sri Lanka players got into a verbal argument.
Bangladesh and Sri Lanka players get into a verbal argument
Winning the toss, Sri Lanka decided to bowl first at the Sharjah Cricket Stadium. The Bangladeshis got off to a decent start, putting on a decent opening partnership of 40 runs in 5.4 overs. However, the Lankans were trying hard for a wicket. In the penultimate ball of the powerplay, Lahiru Kumara took the wicket of Liton Das.
In the heat of the moment, the Sri Lankan pacer went forward and had a few words with the dismissed Bangladesh cricketer. Liton did not seem to like it and he, too, responded. While it was okay until that moment, things went overboard when the argument became intense. The players were too close to each other and it later took the other cricketers to stop them from getting close even further.
Twitter reacts to the incident
It is just the beginning of the T20 World Cup and Twitter was not happy with the incident. Both teams had a similar altercation in the Nidhas Trophy and it seems that the rivalry is not yet over. Most of the Twitter users felt that while the competitive spirit on the field is okay, the act of having an ugly argument, that too at the highest stage, will not reflect well. There were a couple of other reactions to the incident. We take a look at a few of them below:
The verbal argument between #LitonDas and #DushmanthaChameera shows the rivalry of #SlvsBan during the Nidhas Trophy is not over yet.
This is something we don't want to see in #Cricket field.#BANvSL #T20WorldCup21 #Crickettwitter pic.twitter.com/Rw7xC6TqkW

— M.H. Fahad (@MH_Fahad211) October 24, 2021
#SlvsBan
Pic1: How it has started
Pic2 : how it's going pic.twitter.com/zWdWr91fi6

— Savage 🛡 (@SavaageA) October 24, 2021
Underrated Rivalry #SlvsBan https://t.co/hyKHhCEwrZ pic.twitter.com/s0PdEtOhJL

— V!Ki (@reversesweepp) October 24, 2021
Wow the heat between #SlvsBan is 10 times better than #INDvPAK 🔥🥵

— Darshana K (@_TheKande) October 24, 2021
Things heat up between #Srilanka & #Bangladesh players after that throw from Lahiru Kumara.

Not something we want to see in the game of cricket but #BANvSL always have some heating moment 🔥

BAN 58-2 (8overs)#T20WorldCup #SlvsBan #T20WorldCup2021 #Cricket pic.twitter.com/rUvWCPtTlk

— FirstSportz (@SportzFirst) October 24, 2021
#SriLanka
The air in Sharjah is hot.
😉

#SlvsBan pic.twitter.com/dreLuEnrZm

— Alpesh Barot (@AlpeshB02813758) October 24, 2021
Feel the heat of #ICCT20WorldCup2021 some harsh words exchanged between Liton Das & Lahiru Kumara after Das was caught at mid-off in #SlvsBan. Upcoming #PakvsIndia pic.twitter.com/eUbVfm5q3Z

— Haroon Janjua (@JanjuaHaroon) October 24, 2021
Why in every fight all peoples start taking name of Ben Stokes ?? 😂#SlvsBan #T20WorldCup

— sYed KhaliQ (@YKhaliqH_7) October 24, 2021
Ye kya tha…
Poor advertisement for cricket
Lahiru Kumara and Liton Das, that wasn't good at all

— 𝑨𝑹𝑵𝑨𝑽 𝑽𝑬𝑹𝑴𝑨 (@cricketArnav) October 24, 2021
LOL why #LitonDas is abusing and fighting with bowler after playing a rash shot himself 😂😂 #Bangladesh team will never grow up in this aspect I believe. #SL #SLvsBan #BanVsSL #Liton #Chameera #ICCT20WorldCup

— Prateek  (@Cinema_With_PRD) October 24, 2021
No one was joking when they said #SlvsBan is gonna be total war!!! 😉😉#ApeKollo #T20WorldCup2021

— Dinuka Perera (@dinuka_jeremy) October 24, 2021
Unacceptable behaviour from Lahiru kumara ! First throwing the ball at Naim then this send off to liton Das ! #SlvsBan #t20wc2021

— Manu Agarwal (@minds_at_work_) October 24, 2021
Lahiruy Kumara should be banned for at least a game for that..absolutely unnecessary stuff to provoke Liton after taking the wicket.#T20WorldCup #SlvsBan

— Jatin Khandelwal (@jr_khandelwal) October 24, 2021
Can't wait for the handshakes at the end of the match #SlvsBan #T20WorldCup

— manu (@MxnnyCW) October 24, 2021
They have #INDvPAK

We have #SLvsBAN ,maybe?

A bit of heat going on and it's just the beginning!

— Manu🇱🇰 (@BadaaManu) October 24, 2021