Cricket
Twitter Reacts After Kamran Akmal Drops A Catch In Legends League Cricket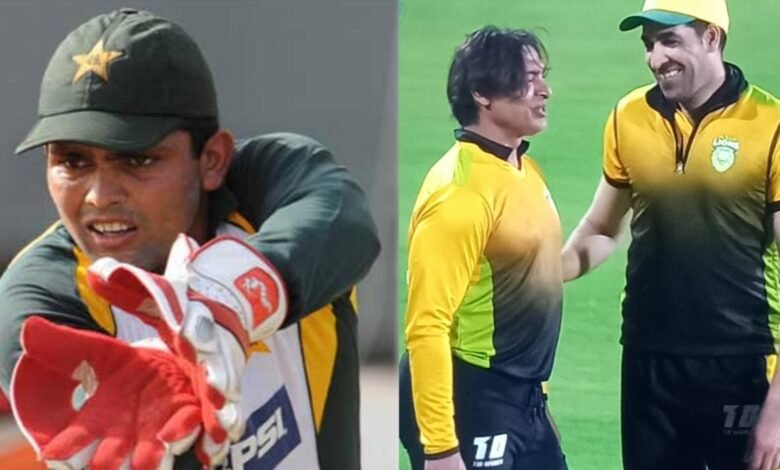 The first edition of the Legends League Cricket got underway in Oman yesterday with India Maharajas locking horns with Asia Lions in the first match. Due to personal reasons, Virender Sehwag, Yuvraj Singh and Harbhajan Singh missed the game. Still, the India Maharajas managed to defeat the Asia Lions by six wickets.
Asia Lions received an invitation to bat first from India Maharajas' stand-in skipper Mohammad Kaif in the first match. A half-century from Upul Tharanga helped the Asia Lions post a 175-run total on the board. Tharanga scored 66 runs off 46 deliveries. He received great support from captain Misbah-ul-Haq who smashed 44 runs off 30 balls.
Manpreet Gony was the best performer for India Maharajas in the bowling department. The right-arm pacer scalped three wickets but conceded 45 runs in his four overs. Chasing 176 to win, the India Maharajas won the game in the 20th over with five balls and six wickets in hand.
Yusuf Pathan stole the show with a 40-ball 80, while captain Mohammad Kaif supported him with an unbeaten 37-ball 42*. Yusuf's brother Irfan Pathan played a brilliant cameo of 21 runs from just 10 deliveries as India Maharajas won the match.
"It is good to see so many legends in this tournament. We hope to entertain people. Playing with each other is fun and it is also very competitive whether it is Legends League or wherever we play. It is a scenic ground and the facilities are wonderful," Asia Lions captain Misbah-ul-Haq said.
Kamran Akmal dropped a catch in Legends League Cricket
Former Pakistan wicket-keeper batter Kamran Akmal was present in the Asia Lions playing XI for the match against the India Maharajas. He kept the wickets for the team, but dropped a regular catch off Nuwan Kulasekara's bowling.
The video of that incident went viral on social media. Here's how Twitter reacted to it.
Something never change🤣🤣🤣

Yusuf Pathan smacking bowlers with brute force🔥
Irfan pathan bowling economical overs
Shoaib Akhtar still bowling with long run up (That's commendable given his fitness & Knee surgery👏👏

& GOAT wicket keeping by Kamran Akmal#LegendsLeagueCricket pic.twitter.com/wJdnZcpScC

— Shoronjeet Banerjee (@shoronjeet02) January 20, 2022
Kamran Akmal drops a catch even in Legends cricket 😂😂😂😂😂

— Saurabh Malhotra (@MalhotraSaurabh) January 20, 2022
Shahid Afridi has scored ducks in every league, tournament he has played.
Likewise, Kamran Akmal has dropped catches in every tournament he has played. latest is legends league cricket #LegendsLeagueCricket

— Absolute fake Daniel Alexander (@mrcool0283) January 20, 2022
Kamran Akmal dropping catches even today 😂😂😂😂😂 in Oman Legend league @adeel_azhar pic.twitter.com/uYu9tJQCch

— Ahmad Shariq (@Sharkation) January 20, 2022
Kamran Akmal just did a Kamran Akmal special drop, which only he can, as a WK. #LegendsLeagueCricket

— Peeyush Sharma (@peeyushsharmaa) January 20, 2022
Kamran akmal dropped a catch😳🤣#LegendsCricketLeague pic.twitter.com/HnhV09rCu1

— Vivek (@Vivek_Singh125) January 20, 2022
Me looking at Kamran Akmal and Stuart Binny in #LegendsLeagueCricket be like #INDvPAK pic.twitter.com/JOmLzS7gCF

— Nishant Rathore (@rathorenishant3) January 20, 2022
Kamran Akmal & Dropped catches, "Never Ending Love Story"😂#LegendsLeague#LegendsLeagueCricket pic.twitter.com/LoBNklQZ2K

— CRICKET EXPERT 🅰️MIT (@CRICEXPERTAMIT) January 20, 2022
Kamran Akmal drops the first catch that comes his way in the Legend Cricket League, the Real Nostalgia!

— Shivani Shukla (@iShivani_Shukla) January 20, 2022
Some Things Never CHANGE! 😂 KAMRAN AKMAL at His Best! 👌🏻😂🤭 #LegendsLeagueCricket #PSL7 pic.twitter.com/eXz9F4gVp4

— Billy10 (@Billy1OPakistan) January 20, 2022