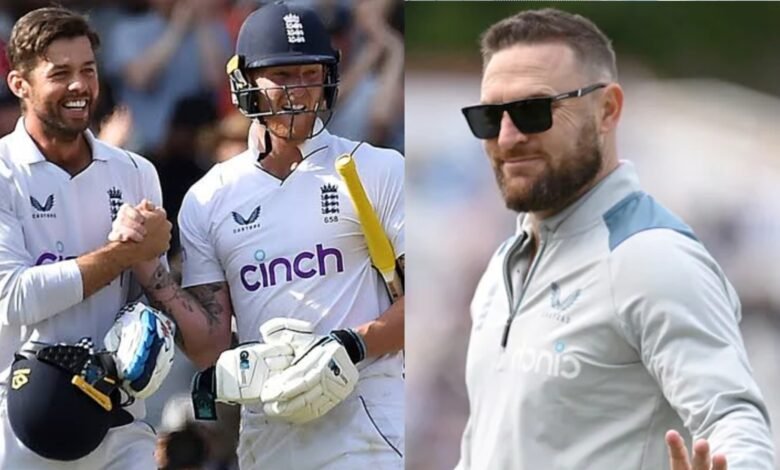 Ben Foakes, who plays as wicketkeeper-batsman, credited head coach Brendon McCullum's speech for raising the team's spirit and contributing to England's comfortable five-wicket victory against New Zealand in the second test match, which took place at Trent Bridge in Nottingham, England, the week before. The Three Lions were given a challenging goal of 299 runs to chase down in just 50 overs.
Giving further clarification on McCullum's positive mindset on the final day of the high-octane encounter which was evenly poised then, Foakes said that the former New Zealand captain said that England will win the game and it will not matter even if the results don't go their way. 
Ben Foakes recalls what McCullum said
The keeper-batsman, who started the series under pressure but has reacted brilliantly with gloves and bat, compared Baz's team talk at tea to William Wallace. "It was like William Wallace. After he was done, everyone was itching to go out there.
The typical test method in that scenario would be to say,' see how it goes, see how many wickets we've got left, and then if the situation isn't there, should we close up shop?'" He responded by saying, "Nah, we're not going to do that." This is a game that we are going to win. If it doesn't work out, that's OK; we've done everything correctly. It makes no difference if we don't end up winning the game. And that relieved some of the stress. It has impacted the way that I look at Test cricket," Foakes said as reported by Daily Mail.
During the final session, England had already lost four wickets and still needed 160 runs from 38 overs. At one point, it appeared as if New Zealand might run through their batting line-up or the English batters might settle for a draw. However, England eventually reached their target of 160 runs from the remaining 38 overs. Jonny Bairstow, on the other hand, had different plans, and he shattered the confidence of the New Zealand bowlers with his lightning-fast innings of 136 runs off just 92 deliveries. As a result, the home team was able to win with 22 overs to spare.
This significant victory also meant that England ultimately registered their very first win in a Test series after the month of January 2021.