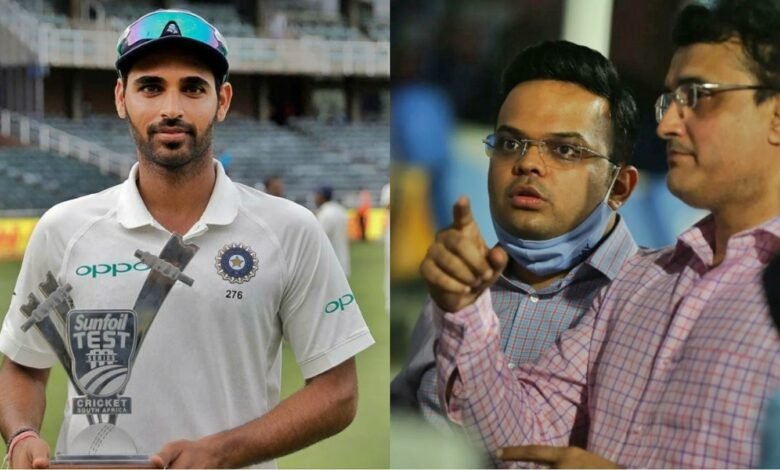 It was a tragic end to India's 2019-2021 World Test Championship. Virat Kohli and his army failed to lift their side over the winning line in the most crucial game of the tournament. New Zealand defeated the Indian side in the finals by eight wickets. Bhuvneshwar Kumar was surprisingly not a part of the squad.
It seemed like there was a slight error in India's team management. The batting lineup was never the part of the question, but the Bowling lineup indeed was. The Indian team decided to play the game with three pacers and two spinners. The lack of fast bowling all-rounder forced the side to go with this formation.
However, a lot of eyebrows were raised when the management announced the squad that will be flying to the UK. The list didn't contain the name of Bhuvneshwar Kumar. Despite being overdriven by injuries, Bhuvi could have played a crucial role in this.
With his natural ability to swing the ball both ways, Kiwis batters would have faced a lot of trouble. Indian pace trio consisted of Bumrah, Shami, and Ishant. Many fans believe that except Ishant and Shami, Bumrah is more like shorter format bowlers who can deliver quick balls. His natural flow did not seem like that of a swing bowler.
When asked about the reason for Bhuvi's absence, a source stated to Zee news that "The selectors think that he is still not fit to play long format especially on such a long tour."
Bhuvneshwar Kumar has been named as the Vice-Captain for the Sri Lanka tour
Bhuvneshwar Kumar hasn't played the test format for a long time. And on the other hand, his injury concerns in the shorter form of the game and IPL make the situation even worse for him. It would be exciting to see how he performs in the upcoming series against Sri Lanka. He has been named as the Vice-Captain of the squad. So let's see how he performs in the series.