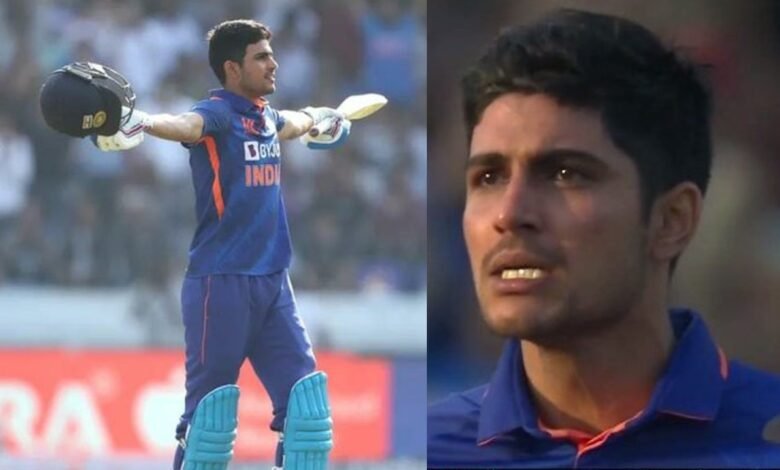 Fans on Twitter reacted and erupted in joy after Indian batter Shubman Gill smashed a magnificent double century in the ongoing first ODI against New Zealand. They lauded the batter for playing a terrific inning under pressure and touted him as the next big thing in Indian cricket.
Shubman Gill slams double century in the first ODI against New Zealand  
Indian batter Shubman Gill produced yet another staggering knock in the 50-over format. But this time around he went a step forward and etched his name in the record books and helped his team post a gigantic total on the board.
India kept losing wickets at regular intervals but Gill oozed his class as he bailed his side out of trouble and smashed a century after his team lost early wickets. His innings was full of class as he provided control to the batting line and made sure that he steadied the innings.
Gill looked settled right from ball 1 and displayed an exhibition of sensational stroke play, which saw him hitting Kiwi bowlers all over the park. He held one end while wickets kept tumbling at the other. But he was left unfazed by things happening on the other end.
Gill batted with a strike rate of over 100 and crafted his innings staggeringly well. He dominated the New Zealand attack and smashed his 3rd ODI ton in just 87 balls. This was his second consecutive ODI ton as he scored a century in the last game against Sri Lanka. He also became the 2nd fastest Indian to score 3 ODI centuries.
However, he didn't just stop there as after scoring a century, he unleashed himself and took New Zealand placers to cleaners. As it turned around, he smashed a sensational double century in just 145 balls. He smashed three consecutive sixes to achieve the milestone.
Gill batted for 149 balls and smashed 208 runs with the help of 19 fours and 9 sixes to become only the fifth Indian to smash a double century in the 50-over format, becoming the youngest ever to achieve the feat.
Fans on Twitter react as Shubman Gill smashes double century in first ODI against New Zealand 
As Shubman Gill smashes a double century in the first ODI against New Zealand, fans on Twitter reacted to it. They lauded the batter for his staggering stroke play and delivering under pressure. They said that a young batter is the next big thing in Indian cricket and give some joyful reactions. Here are some of them:
Crazy: Shubman Gill scored 208 and second-best score is just 34.

— Johns. (@CricCrazyJohns) January 18, 2023
Shubman Gill is just 23, he is the future.

A legend in making. pic.twitter.com/zCNpjSTESQ

— Johns. (@CricCrazyJohns) January 18, 2023
Warra player 👏 https://t.co/IuK1y7XgZ6

— Ishan Shah (@ishan8shah) January 18, 2023
Prince 🤴
Keep shinning 💫❤️❤️❤️ https://t.co/1mmgExMpdQ

— Ayush (@Ayuxsh_) January 18, 2023
Dream come true….🤩💯 https://t.co/YMarWdRWms

— ( Big fan for @shubmangill ) (@RonakP472) January 18, 2023
Shubman Gill in ODI since 2022:

64(53), 43(49), 98*(98), 82*(72), 33(34), 130(97), 3(7), 28(26), 49(57), 50(65), 45*(42), 13(22), 70(60), 21(12) & 116(97) & 208(149) pic.twitter.com/VT517kRRxr

— Johns. (@CricCrazyJohns) January 18, 2023
Kohli Using His Unreal Powers?

If You Know You Know! https://t.co/eHHEcTaDPJ

— 🇮🇳 (@CaptainVK18) January 18, 2023
This Duo 😭😭🧿🧿 https://t.co/sAp8Bofdvp

— A Teenage dream 🦋🌸❤ (@Krishnanvihere) January 18, 2023
End of one of the great ODI knock in recent times, 208 from 149 balls including 19 fours & 9 sixes.

Stand up & salute the master Gill. pic.twitter.com/cevhFQegjs

— Johns. (@CricCrazyJohns) January 18, 2023
— Maara (@kandha_maran) January 18, 2023
The roar in the eyes of Shubman Gill pic.twitter.com/iKuMFlQr4h

— Johns. (@CricCrazyJohns) January 18, 2023
That celebration was like I have arrived now and this is my yard https://t.co/nRfdPjqPXo

— Shantanu Anil Shinde (@shan_gooner) January 18, 2023
These eyes have the fire and passion and it shows how much it means to him❤️‍🔥 Dil Dil Shubhman Gill #IndvsNz #shubhmangill https://t.co/ImheWH7y6p

— Shahbaz (@therealshabi) January 18, 2023
Shubman Gill has 184*(142) then 6, 6, 6 and completes the double hundred.

Take a bow, Prince.

— Johns. (@CricCrazyJohns) January 18, 2023
Hitting sixes to reach a milestone. Father-in-law cannot relate https://t.co/RwNCFwx16N

— Sherlock (@Zallion) January 18, 2023
Shubhman, the name of consistency!!! 🙇‍♀️ https://t.co/w6F8RS2hwX

— 💫 (@dddxsha) January 18, 2023
Gill has closed all the doors 🚪 of Dhawan's comeback in ODIs.

— Forever Alone 🇮🇳 (@Forever65780043) January 18, 2023
Double hundred for Shubman Gill from 145 balls, What a talent, at the age 23, he is breaking the records. pic.twitter.com/eQ4iobTeL0

— Johns. (@CricCrazyJohns) January 18, 2023
New face of World Cricket ! @ShubmanGill #ShubmanGill https://t.co/KibT0AaMji

— Divyanshu (@iamD04Yadav) January 18, 2023
This guy is 🤌❤️‍🔥 https://t.co/tntAqEmsRC

— Prakash (@prakash10112002) January 18, 2023
The Future of Indian Cricket! https://t.co/IFcJ0o3hUg

— Zak (@_Zak44) January 18, 2023
Mann what a knock this is 🔥 https://t.co/rU5Z1E9R12

— Dr.dark knight (@DarkKni24306468) January 18, 2023
THE NEXT BIG THING IN #IndianCricketTeam

Remember the name #ShubmanGill 💯🔥 https://t.co/UP6KDJovOe

— Ashwin Seth (@iamashwinseth) January 18, 2023
Now, imagine Gill and Kishan opening regularly for India in near future. 🔥🔥 https://t.co/GWqETkxUV1

— Somesh (@TenDroolKar) January 18, 2023
Excellent double hundred with out support from other end https://t.co/Ut8c1i7tvH

— Ajay Joji (@ajay_joji) January 18, 2023
Take a bow #subhmangill https://t.co/CP9Kb5pcgh

— CA S.Triyambak Patro (@Triyambak_CA) January 18, 2023