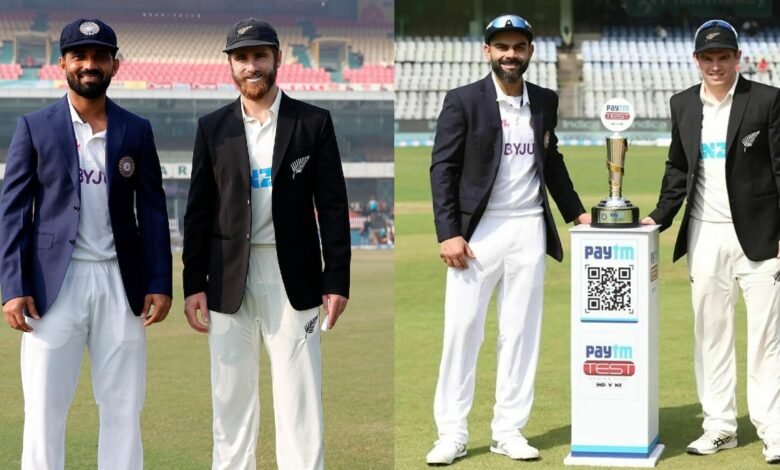 Tom Latham and Virat Kohli taking over the captaincy of New Zealand and India from Kane Williamson and Ajinkya Rahane respectively for the Mumbai test match has now created a scenario which never happened in test match history in the last 130 years.
This is now after the first time since 1888-89 that four different captains have captained two respective teams in a 2-match test series. Back in 1888-89 when South Africa played their first-ever test series against England, they appointed Owen Dunell as the first test captain of their history, but he was replaced by William Milton only after one test match.
Incidentally, England also had different captains captaining in the two test matches of that series. While C Aubrey Smith led the team in the first test, he was ill for the second one, and it was the 23-year-old youngster Monty Bowden who took over the captaincy, becoming the youngest ever England test captain at that stage.
In the ongoing test series between India and New Zealand, the scenario regarding the availability of the four captains is not quite the same. For the first test match in Kanpur, India's regular captain Virat Kohli was on a break, so it was his deputy Ajinkya Rahane who was in charge of the side.
Virat Kohli replaced his deputy Ajinkya Rahane in India's playing XI as he got back from a break
As Virat Kohli made his way back for the second game, he replaced his deputy in the XI as Ajinkya Rahane was going through a lean patch with the bat. Although it was stated by BCCI that Rahane was not dropped and the reason why he is not a part of the XI is that he is not 100% fit, there is a general acceptance among the fans that India's deputy skipper lost his place for not having enough runs under his belt in the recent times.
As far as New Zealand is concerned, Kane Williamson, their regular skipper in all formats, has been struggling with his elbow for a long time and the New Zealand medical staff managed his injury through the T20 World Cup to put him on the park for the whole tournament, but the injury seems to have aggravated quite a bit on this India tour and to an extent that Williamson eventually had to withdraw from the Mumbai test match.
The Blackcaps' vice-captain Tom Latham was a pretty straightforward candidate to take over the captaincy once Williamson withdrew, as the batting allrounder Daryl Mitchell replaced Williamson in the playing XI.
This #INDvNZ test series is poised to be only the second 2 test series in history to feature 4 captains. The other one was a while ago: England in South Africa, 1888/89#Statchat

— Michael Wagener (@Mykuhl) December 3, 2021