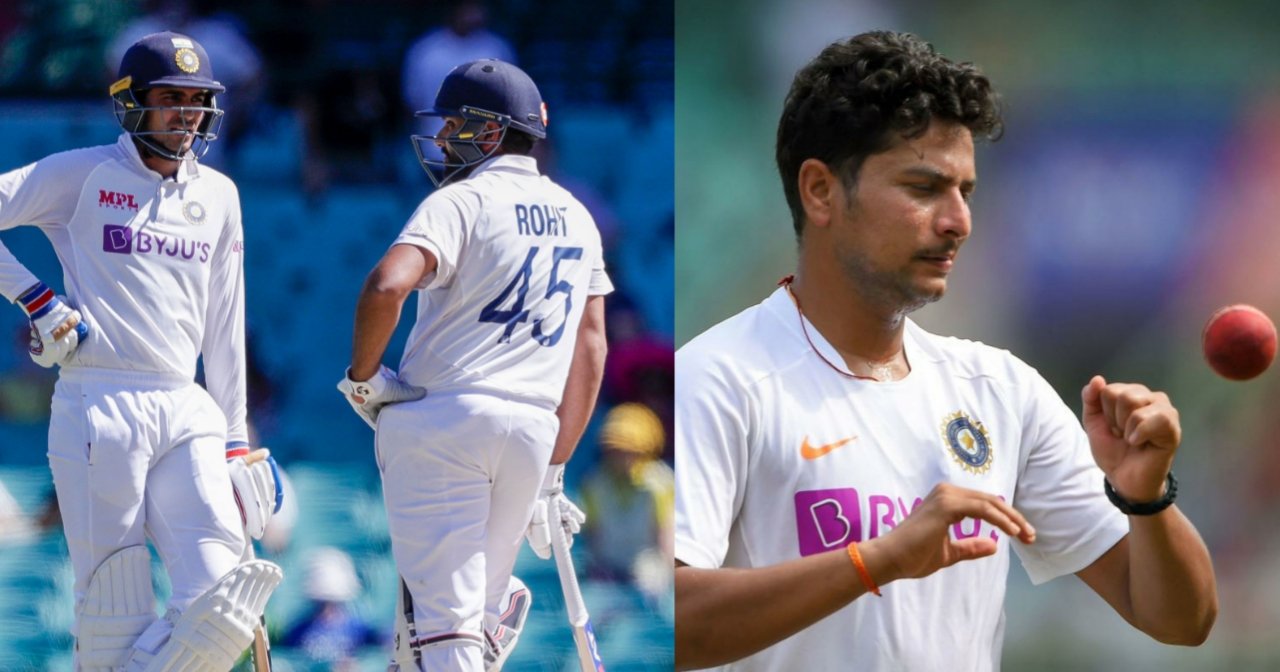 The BCCI announced the Indian squad for the series against England on January 19. There were not many surprises in the Indian team. However, all-rounder Hardik Pandya made his return to the Test team. Hardik still has a back injury. Hence, it will be interesting to see if the management includes him in the playing XI. Fans are eager to see Team India's approach against might English Side.
There will be a little selection headache for the backroom staff. Indian team's bench impressed with their performance in Australia. It will be hard to ignore them for the home series. However, India will have to pick only 11 players for the first Test. Here is the Indian team's possible playing XI for the first Test.
Openers – Rohit Sharma and Shubman Gill
Mayank Agarwal could not fire for the Indian team in the first two Tests against Australia. Meanwhile, Shubman Gill did a fine job at the top. So, the Indian team management used Rohit Sharma and Gill as an opening pair. Mayank batted in the middle-order at The Gabba. It looks like Mayank might not get a spot in the first Test.
Virat Kohli will return to the middle-order. So, the only place Mayank can play for the Indian team is as an opener. Rohit and Gill fared well as an opening pair. Kohli might wish to continue with the same combination. Hence, these two right-handed batsmen could likely open for the home side.
Middle Order – Cheteshwar Pujara, Virat Kohli (c), Ajinkya Rahane, and Rishabh Pant (wk)
Cheteshwar Pujara was the unsung hero of India's Test series wins Down Under. His defence frustrated the Aussie bowlers. The other batsmen dominated them from the other end. Virat Kohli will add stability to the middle order at number 4. Kohli could not score a single hundred in 2020.
Ajinkya Rahane will return to his vice-captain's role. Rahane did a fantastic job as the Indian team's leader in Australia. Rishabh Pant will likely retain his place. Many fans feel Wriddhiman Saha is a better gloveman than Pant. However, one cannot ignore Pant's match-winning performance in Australia.
All-rounders – Ravichandran Ashwin and Washington Sundar
Ravichandran Ashwin missed the final Test against Australia due to injury. The off-spinner was keen to play the match. However, an injury did not allow him to play at The Gabba. Nevertheless, he should be back for the first Test against England. Ashwin will play this game at his home ground.
Ravindra Jadeja will be out for an extended period. So, Washington Sundar will likely hold on to his place. Even Sundar is from Tamil Nadu. So, Ashwin and Sundar will play for the Indian team in a Test at Chepauk. Unfortunately, the home fans will not be able to cheer for their heroes.
Bowlers – Mohammed Siraj, Ishant Sharma, and Kuldeep Yadav
The Indian team is unlikely to go with three fast bowlers in this Test. The reason behind it is that the Chennai wicket has assisted the spinners. Also, the English batsmen might struggle against spin in Chennai. So, going with three spinners could be the Indian team's possible decision. In that case, Kuldeep Yadav will make his return to the playing XI. Yadav warmed the benches for the entire Test series against Australia. However, he could wreak havoc in Chennai.
Jasprit Bumrah might skip the first Test as he is still recovering from his abdominal strain. Ishant Sharma could spearhead the Indian pace-bowling attack in Chennai. It will hard to leave out Shardul Thakur after his Brisbane heroics, but the team management will likely prefer Ishant's experience. Also, Mohammed Siraj has played three Test matches now. So, Ishant and Siraj could be Team India's two pace bowlers.
Team India's possible XI for the first Test vs. England
Rohit Sharma, Shubman Gill, Cheteshwar Pujara, Virat Kohli (c), Ajinkya Rahane, Rishabh Pant (wk), Washington Sundar, Ravichandran Ashwin, Kuldeep Yadav, Ishant Sharma, and Mohammed Siraj.