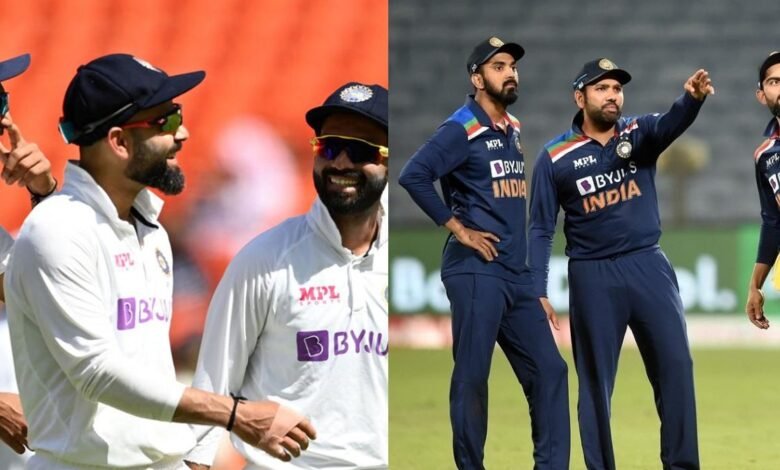 Yesterday evening, the Board of Control for Cricket in India (BCCI) issued a press release, confirming all home matches of Team India for the upcoming 2021-22 season. The Indian cricket team will be in action during the ICC T20 World Cup 2021 in the United Arab Emirates and Oman. After that tournament ends, Team India will head home.
For the first time since the India vs. England series, an international match will happen in India, with the home side battling against the reigning ICC World Test Champions New Zealand in three T20Is and two Test matches. The T20I matches will happen in Jaipur, Ranchi and Kolkata, while the two Test matches will take place in Kanpur and Mumbai.
Which teams will play against Team India in 2022?
After the home series against the New Zealand cricket team, Team India is scheduled to fly to South Africa and play against the mighty Proteas. The Men in Blue will then return home and host the West Indies cricket team in a 3-match ODI series and a 3-match T20I series. The ODI series will be part of the ICC Cricket World Cup Super League.
The venues for the India vs. West Indies matches are Ahmedabad, Jaipur, Kolkata, Cuttack, Vizag and Trivandrum. Just five days after the India vs. West Indies T20I series, Sri Lanka will play an ICC World Test Championship series against Team India. Bengaluru and Mohali will host the two Test matches between India and Sri Lanka. There will be a 3-match T20I series as well, with Mohali, Dharamsala and Lucknow hosting the matches. Finally, after IPL 2022, South Africa will visit India for a T20I series, comprising five matches.
Full Schedule of Indian cricket team for 2021-22 Home Season
Here is the entire schedule of Team India for the upcoming home season:
India vs New Zealand
1st T20I 17-Nov-21, Jaipur
2nd T20I 19-Nov-21, Ranchi
3rd T20I 21-Nov-21, Kolkata,
1st Test 25-Nov-21, Kanpur
2nd Test 03-Dec-21, Mumbai
India vs West Indies
1st ODI, 06-Feb-22, Ahmedabad
2nd ODI, 09-Feb-22, Jaipur
3rd ODI, 12-Feb-22, Kolkata
1st T20I, 15-Feb-22, Cuttack
2nd T20I, 18-Feb-22, Vizag
3rd T20I, 20-Feb-22, Trivandrum
India vs Sri Lanka
1st Test 25-Feb-22, Bengaluru
2nd Test 05-Mar-22, Mohali
1st T20I 13-Mar-22, Mohali
2nd T20I 15-Mar-22, Dharamshala
3rd T20I 18-Mar-22, Lucknow
India vs South Africa
1st T20I 09-Jun-22, Chennai
2nd T20I 12-Jun-22, Bengaluru
3rd T20I 14-Jun-22, Nagpur
4th T20I 17-Jun-22, Rajkot
5th T20I 19-Jun-22, Delhi