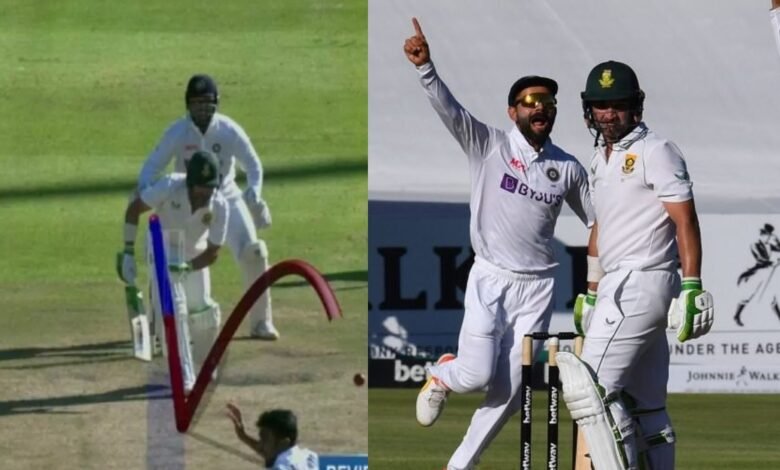 South Africa defeated India 2-1 in the recent Test series. The tournament had largely remained non-controversial until the Day 3 of the final game. After a controversial DRS call, Indian players were angry and directed a few comments at CSA's broadcaster. In this article, we take a look at how SuperSport reacted to India's allegations that were caught on stump mic after Dean Elgar's DRS review.
After Elgar's controversial DRS, India's allegations caught on stump mic
India needed a wicket to get back into the game on Day 3 of the Cape Town Test. Dean Elgar, who played a match-winning knock at the Wanderers, was threatening to repeat a similar show. R Ashwin, though, had him caught plumb before the wickets. However, Dean Elgar reviewed the decision. On review, the ball was missing the stumps and hence, Elgar was not out. Including the umpire, everyone was surprised with the bounce that the projected delivery took after pitching in the Hawk-Eye.
Hence, the Indian players, mainly Virat Kohli and R Ashwin got angry because of the same. They made some comments at the broadcaster, with Virat even using the stump mic to convey his message.
SuperSport responds to the comments by the Indian players
After the game ended, SuperSport responded to the allegations by Team India. It said that the technology is not in their control. The statement by the broadcaster to a news agency read, "SuperSport notes comments made by certain members of the Indian cricket team. Hawk-Eye is an independent service provider, approved by the ICC, and their technology has been accepted for many years as an integral part of DRS. SuperSport does not have any control over the Hawk-Eye technology."
ICC has not levied charges on Team India for their comments. Meanwhile, there is a call across the globe to improve the standards of the DRS. Despite having good technology at disposal, even a few DRS calls are going wrong in recent days. This is changing the result of the games in a few cases.