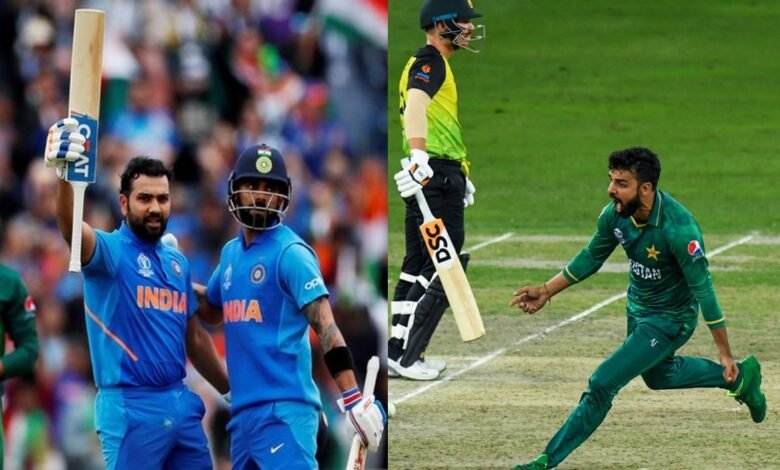 The Pakistan leg spinner Shadab Khan has revealed that he has found Rohit Sharma and David Warner as the toughest batsmen to bowl to so far in his career. Since India and Pakistan don't play a lot of cricket against each other, Shadab has come across Rohit Sharma only in multination tournaments like Asia Cup and World Cups.
Shadab didn't bowl even a single delivery to Rohit in the most recent game between India and Pakistan in the T20 World Cup, but he has bowled to the Indian white-ball captain in Champions Trophy 2017, Asia Cup 2018 and ODI World Cup 2019 and Rohit has dominated Shadab every single time.
Rohit Sharma has faced 77 deliveries off Shadab Khan in ODI cricket and has scored 89 runs at a strike rate of roundabout 116. Shadab has got Rohit out once, but even in that game, Rohit had already completed his half-century and had taken the game away from Pakistan before Shadab removed him.
As far as Warner is concerned, Shadab played against him in the semifinal of the T20 World Cup recently, and although he got him out caught behind the wickets, the television replay later suggested that Warner hadn't nicked the ball to the keeper and walked despite being not out.
However, before his dismissal, Warner had already given Australia a rapid start in the pursuit of a chase of 170 odd, a chase which was later completed easily by the Australian finishers Marcus Stoinis and Matthew Wade. Warner had hit a six off Shadab in that game, which had gone onto the third tier of the stands.
It was a pitch that was offering Shadab a little bit of purchase and he was able to trouble almost every single Aussie batsman, apart from Warner who milked him easy and even took the aggressive route against him a couple of times.
Rohit Sharma and Warner #AskShadab https://t.co/qZLJCdJyae

— Shadab Khan (@76Shadabkhan) December 20, 2021
Shadab Khan is the second Pakistan bowler to call Rohit the toughest batsman to bowl to
Shadab Khan is not the only Pakistan bowler who has called Rohit Sharma the toughest batsman to bowl to. Even Hasan Ali, who is another vital cog of Pakistan's white-ball attack, had said in an interview a few months ago that Rohit Sharma is such a dangerous batsman that he can destroy the whole career of a bowler.
Hasan Ali was on the receiving end of Rohit Sharma's onslaught in the Asia Cup of 2018 and the ODI World cup of  2019. On both those occasions, Rohit was particularly severe against Hasan and had played big shots against him, both down the ground and square of the wicket.