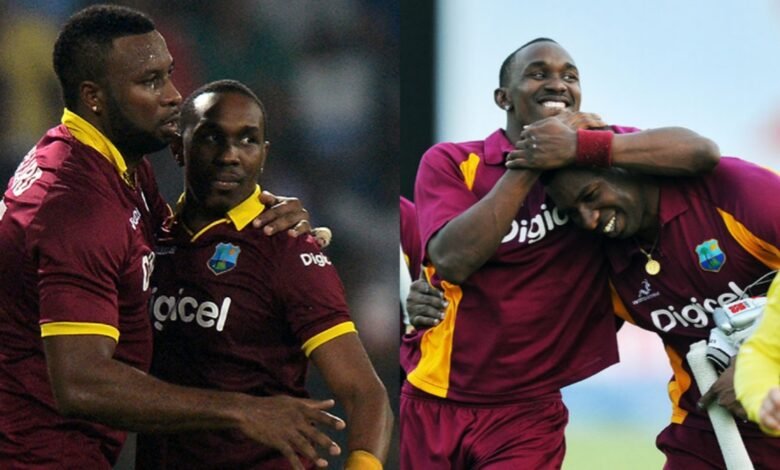 Dwayne Bravo and Kieron Pollard are two of the best all-rounders to have played T20 cricket. They used to play together for the West Indies cricket team, but Bravo has called it a day on his international career now. Fans have always enjoyed the friendship and rivalry of Dwayne Bravo and Kieron Pollard.
They can destroy any team on earth when they get going, while in the IPL, they are rivals and often have funny exchanges. During a knockout match between the Chennai Super Kings and the Mumbai Indians, Bravo took Pollard's wicket and gave him a sendoff. He gestured that Pollard would soon take a flight to home and said goodbye to him.
Recently, Dwayne Bravo posted a hilarious meme related to Kieron Pollard on Instagram. A fan created it, and Bravo found it very hilarious, which is why he decided to share it on his profile. Here's what Bravo wrote in the caption:
"This is really a Sad day @kieron.pollard55 my best friend is missing guys pls if u have any info pls inbox me or report to the police."
https://www.instagram.com/p/CZzpMxShzGH/?utm_source=ig_embed&ig_rid=fbd6da15-c4bb-49dd-82b0-e79e8165d939
The meme had a picture of Pollard from a press conference. It had its age and height. Interestingly, the place he was last seen at was Yuzvendra Chahal's pocket. Lastly, the meme creator wrote that if you find him, contact West Indies.
Kieron Pollard loved the meme that Dwayne Bravo posted
Quite a few cricketers left comments under the post by Dwayne. Harbhajan Singh, Chirag Suri, Fidel Edwards and Daren Sammy could not control their laughter. Even Kieron chipped in as he commented: "(4 laughing emojis) gotta love them." 
Pollard reposted the meme on his own Instagram account later and captioned it as follows: "Never a dull moment on the socials. @djbravo47 … ohh how I'm missed." Pollard is in India right now, leading West Indies. However, he has missed the second and third ODIs because of an injury due to which this meme has surfaced.