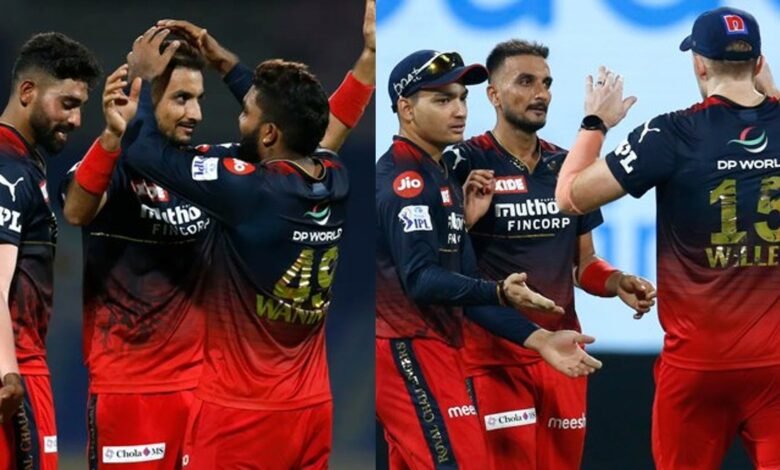 The sixth match of the 2022 IPL tournament is underway in Navi Mumbai right now, where two-time champions Kolkata Knight Riders are locking horns with three-time runners-up Royal Challengers Bangalore. The RCB bowlers have dominated this match so far, with Wanindu Hasaranga and Harshal Patel doing a majority of the damage.
After receiving an invitation to bat first from the Royal Challengers Bangalore captain Faf du Plessis, the Kolkata Knight Riders lost all their wickets for 128 runs. Hasaranga was the pick of the bowlers with a four-wicket haul.
The Sri Lankan cricket team star earned the Purple Cap with his excellent performance in this match. Here's what he had to say after the first innings:
"It's hard when you play in this kind of league. I'm happy to be wearing this cap. These kind of wickets are pretty good with small straight boundaries. I was bowling at the 3-4 meter length in the previous game, but stuck to my usual lengths in this game. That seemed to work well."
Twitter reacts as Harshal Patel conceded no runs in his first two overs
These days in T20 cricket, bowling one dot ball is a good thing for bowlers in the death overs. To bowl a maiden in the final overs is the dream of every bowler. Harshal Patel went one step forward and bowled two wicket maiden overs in the second half of the Kolkata Knight Riders innings.
He opened his account by taking the wicket of Sam Billings in the 12th over. Next, in the 14th over, he bagged the wicket of Andre Russell to ensure that the Kolkata Knight Riders never recovered from their top-order collapse.
Fans on Twitter heaped praise on Patel and the RCB team management after the first innings. RCB backed Patel and gave him the confidence. Here are some of the top reactions:
RCB has given one of the best death bowler to IPL. HARSHAL PATEL 🔥

— Gaurav Chavan (@ChavanGaurav18) March 30, 2022
0,0,0,W,0,0,0,0,0,0,W,0 by Harshal Patel in his first 2 overs.

— Johns. (@CricCrazyJohns) March 30, 2022
Harshal Patel gets rid of the dangerous Russell

His spell so far:
. . . W . .
. . . . W

1.5 overs, 0 runs, 2 wickets 😮#RCBvKKR #IPL2022 https://t.co/SvOpimqDm2

— Cricbuzz (@cricbuzz) March 30, 2022
Harshal Patel becomes the 2nd bowler in history after Siraj to bowl 2 maiden overs in an IPL innings.

— Mufaddal Vohra (@mufaddal_vohra) March 30, 2022
1️⃣1️⃣ dot balls in a row and gets the dangerous Russel! Harshal Patel you beauty! 🥳🥳🥳#PlayBold #WeAreChallengers #IPL2022  #Mission2022 #RCB  #ನಮ್ಮRCB #RCBvKKR

— Royal Challengers Bangalore (@RCBTweets) March 30, 2022
Harshal Patel is one of the best T20 bowler in the World currently. ✍ pic.twitter.com/5OIg8KesnG

— Diwakar¹⁸ (@diwakarkumar47) March 30, 2022
Harshal Patel keeps coming back. Apart from his variation, His self belief is something that makes him perform under pressure!

— Irfan Pathan (@IrfanPathan) March 30, 2022
HARSHAL PATEL IS LEGENDARY. THIS IS IT. THIS IS THE TWEET#RCBvKKR #IPL2022

— Suraj Pandey (@ferrarinotfiat) March 30, 2022
Harshal Patel at his Very Best in death overs. He gets Andre Russell. Second Wicket for him. Brilliant Bowling.

— CricketMAN2 (@ImTanujSingh) March 30, 2022
Mohammed Siraj 🤝🏻 Harshal Patel

Bowling back-to-back maidens against KKR. #PlayBold #WeAreChallengers #IPL2022  #Mission2022 #RCB  #ನಮ್ಮRCB #RCBvKKR pic.twitter.com/sXTLZwapMW

— Royal Challengers Bangalore (@RCBTweets) March 30, 2022