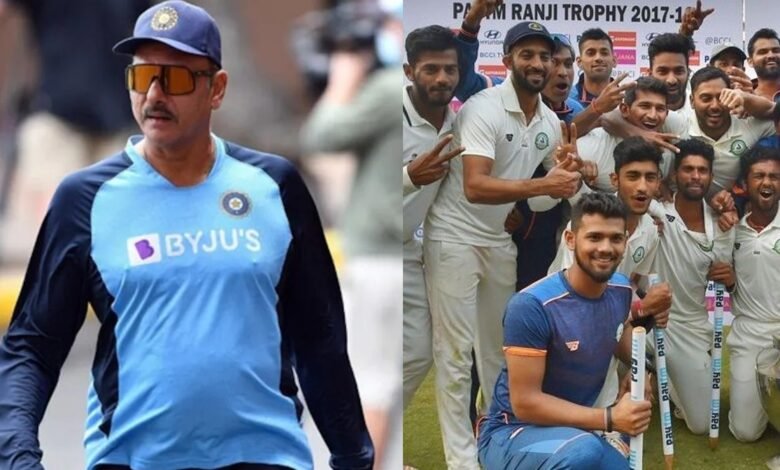 The former Indian head coach Ravi Shastri took a dig at the Board of Control for Cricket in India (BCCI) today, saying if the Ranji Trophy competition keeps getting ignored, the Indian cricket will be spineless. BCCI didn't organise Ranji trophy last season because of COVID and while the competition was in line to be organised this season, it had to be postponed at the last moment because of the third COVID wave which hit the country.
After the postponement of the Ranji trophy this year, there was news circulating that BCCI might not organise Ranji Trophy again because IPL has to be organised from 27th of March and the board doesn't have enough time in hand to organise Ranji Trophy before the IPL.
But, after Ravi Shastri's tweet and the pressure from state units as well, the board has decided that Ranji trophy will be organised in two phases. While the league stage will be organised before the IPL, the knockouts will be held in June after the conclusion of the IPL.
Ravi Shastri is not on great terms with BCCI president Sourav Ganguly
Ravi Shastri is someone who isn't on great terms with the current BCCI president Sourav Ganguly and it was perceived to be on of the reasons behind his resignation as India's head coach as well, although the reason that Shastri officially gave was the fact that he had had enough time in the job and he wanted a break.
Now without being under a BCCI contract, Shastri is putting forward his opinion in a straightforward manner as he used to do in the past. He has raised his voice for plenty of domestic cricketers in the country who find themselves without a source of employment when Ranji trophy is not held.
The Ranji Trophy is the backbone of Indian cricket. The moment you start ignoring it our cricket will be SPINELESS!

— Ravi Shastri (@RaviShastriOfc) January 28, 2022
Although BCCI has already announced that even without playing the Ranji Trophy, the players who were going to be selected in their respective state teams for the last season of Ranji Trophy will be given compensation, but the compensation hasn't reached all the cricketers yet because a lot of formalities are yet to be completed.
And not all the Ranji cricketers get IPL contracts, so if the Ranji Trophy wasn't going to be held this season again and with the compensation for last season still not reaching a lot of cricketers, they were going to be in a lot of financial problems.
However, today the BCCI secretary Jay Shah made the announcement that this season's Ranji trophy is not going to be cancelled and will be organised in two phases.