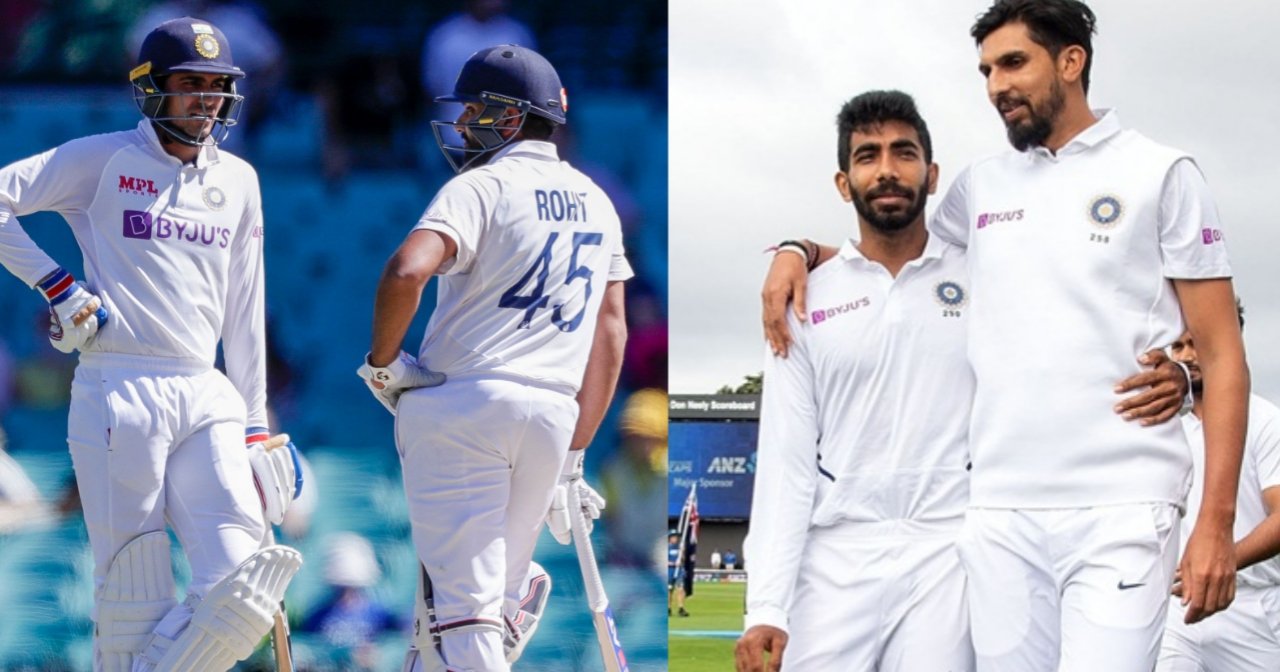 BCCI announced the Indian squad for the ICC World Test Championship final against New Zealand and the five-match test series against England on Friday, 7 May 2021. The World Test Championship final will take place in Southampton from 18 June 2021 to 22 June 2021. And with the suspension of IPL, both India and New Zealand will be kick-starting their preparations soon to win the test mace. So let's predict what could be India's strongest playing XI for the WTC final.
India's strongest playing XI for the WTC final:
Rohit Sharma:
Rohit Sharma is the second-highest run-getter in India in tests since the beginning of 2019 after Ajinkya Rahane. From 2019, Rohit has scored 1030 runs from 17 innings in tests. And he has done this at an average of 64.49 with four centuries and two half-centuries. Interestingly he also has the most number of Test centuries for India in this period.
Rohit Sharma used to have a lot of trouble against swinging deliveries in tests, and that is why he never got many chances in the Test team. However, he has significantly improved his foot movement and technique to counter the swinging deliveries. It was evident in his batting against Australia in the Border-Gavaskar Trophy and against England earlier this year.
Shubman Gill:
Shubman Gill was the find of the Border Gavaskar Trophy against Australia. His textbook batting technique has gathered praises from several former cricketers. And with Mayank Agarwal and KL Rahul's concerns with form, Gill becomes the strongest contender to open the innings for India in the World Test Championship final.
Cheteshwar Pujara:
Cheteshwar Pujara is India's best batter in tests, so he can't be ruled out of India's strongest playing XI for the WTC final. Besides, India needs Pujara's services as he has scored the third-highest runs on England soil after 2014. He also has the second-highest batting average among the players who have played at least two tests in England in this period. If India has to win the World Test Championship, then Pujara and Virat Kohli must score.
Virat Kohli (c):
Virat Kohli is the highest run-getter on England soil after his 2014 woes. He has scored 593 runs in just five matches in this period, and he has stacked these runs at an average of 59.30. Not just that, he has also scored the most number of centuries (2) and half-centuries (3) for India in England since 2015. So as I mentioned earlier, the Indian skipper will play a crucial role in the outcome of the WTC final. And if India has to win, he must continue his successful form in England.
Ajinkya Rahane:
The Indian vice-captain is going to be another crucial factor for India in the World Test Championship final. Despite his recent batting failures, Ajinkya Rahane is the highest run-getter for India in tests since 2019 and the fourth-highest run-getter on the England pitches since 2015. Apart from his batting, his expertise and experience in Tests will also play a vital role in India's tactics.
Rishabh Pant (wk):
Rishabh Pant has emerged as India's newest hero in Tests. Pant currently sits at the sixth spot in the ICC men's Test batting rankings. He has proven to be a great asset to the team in the recent past as he can both grind it out in the middle and attack to put the opposition under pressure. Apart from that, Pant is the only Indian player to score a century on England soil other than Kohli, Rahul, and Pujara.
Ravindra Jadeja:
We can't leave a player like Ravindra Jadeja out of India's squad in any format these days. He is ranked third in the current ICC all-rounder rankings in Tests. A complete package like Jadeja strengthens India in all three departments of the game. He can grind it out in the middle, he can bowl as a primary left-arm orthodox spinner, and he is arguably the best fielder in the world at the moment.
Washington Sundar:
Since England pitches are more pacer friendly, India can increase their batting depth by including two all-round spinning options in their playing XI. Washington Sundar provides a Right-arm off-break spinning option contrasting to Jadeja's left-arm orthodox. He can also bat like a top-order batter in tests, credit to his well-balanced batting technique, strengthening India's XI for the WTC final in both departments.
Jasprit Bumrah:
As England's pitches favor pacers more than spinners, Jasprit Bumrah's inclusion in India's XI becomes a must. In addition to pace, bounce, and swing, Bumrah also brings his difficult angles to the plate for India. And these angles make all the difference in test cricket. The difficult inward angle that Bumrah creates with his action makes batters poke at most of his deliveries which in turn gets him more wickets.
Ishant Sharma:
Ishant Sharma is the joint-highest wicket-taker for India on England soil, along with Kapil Dev. He has taken 43 wickets in just 12 matches on England's pitches. So, he will be the lead pacer for India in the World Test Championship final against New Zealand. His experience on these pitches will come in handy for India and play a vital role in India's bowling attack.
Mohammed Siraj:
Mohammed Siraj has evolved into one of the best pacers in India after his time in India's historic series win down under and the series against England. He can swing the ball in both directions at a pace of over 140kmph consistently. Siraj can also hit hard lengths for long spells, which can prove fatal for the opponents. So this makes him a valuable addition to India's XI for the WTC final.