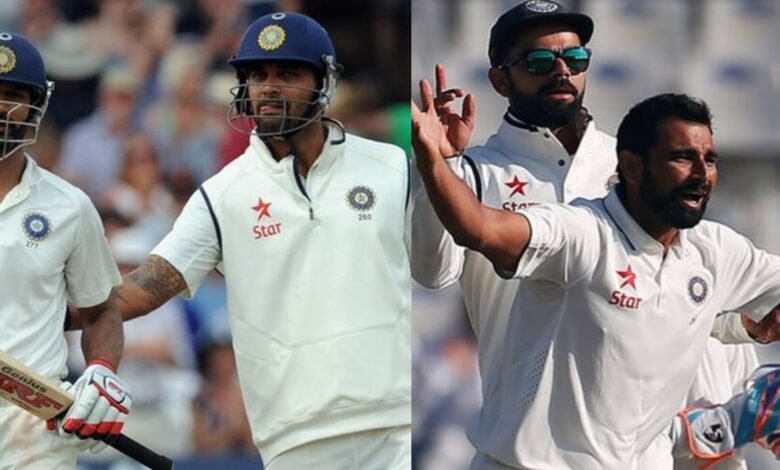 No Indian captain, so far, has won more Test matches for Team India than Virat Kohli. Once considered as not good enough for Tests, Virat has made more than 7000 runs and has led India to its heights in the five-day format. Be it helping India regain its position at the top of ICC charts or winning a series Down Under, Virat has done exceedingly well as a Test captain. In this article, we take a look at the playing XI when Virat Kohli captained for the first time in Tests.
It was under uncertain circumstances that Virat Kohli made his Test captaincy debut. At that time, it was almost unimaginable to have an Indian captain whose name was not MS Dhoni. However, the wicket-keeper had to miss the first game of the four-match Test series in India Tour of Australia, 2014 due to a thumb injury. Hence, for the match that started on 9th December 2014 at the Adelaide Oval, Virat Kohli was given the captaincy mantle.
Although India lost the game by 48 runs, on the fifth day, chasing 364, Virat Kohli and co. showed intent while looking to hunt the target and had also started well. This was the first occasion when the fans were treated to Virat's aggressive form of captaincy. Later in the series, MS Dhoni announced his Test retirement and Virat was appointed as the full-time captain of the team.
Openers: Murali Vijay and Shikhar Dhawan
Murali Vijay and Shikhar Dhawan opened India's innings when Virat Kohli captained for the first time in Tests. At that time, after the retirement of the legends, it was Vijay and Dhawan who were opening for Team India in the red-ball format.
Together, they amassed 1748 runs at an average of 43.93. Considering they opened in Australia and England, the average is terrific. In this game, while Vijay got half-centuries in both innings, Shikhar failed to contribute with scores of 25 and 9.
Middle-Order: Cheteshwar Pujara, Virat Kohli (C), Ajinkya Rahane, Rohit Sharma and Wriddhiman Saha (WK)
It has been almost seven years and yet, Team India is employing the same middle-order in Tests. At No.3, Cheteshwar Pujara had already made the position his own. While he scored 73 in the first innings and 21 in the second, overall, it was not an extraordinary tournament for Pujara.
Virat was not the full-time skipper when he captained in this game. MS Dhoni was missing the game due to an injury, and hence, Virat took over. Nevertheless, at the end of the series, he was appointed as India's full-time Test captain as Dhoni retired. In this particular game, Virat scored a hundred in both innings and hence, became the fourth Indian to score a hundred on Test captaincy debut.
Rahane played at No.5 and scored a 62 in the first innings but was a duck out in the second. It was actually Rohit Sharma who featured at No.6 in this game. The Mumbaikar was playing only his eighth Test game and scored a total of 49 runs in both innings combined. In the absence of Dhoni, it was Saha behind the stumps. He could not add much value with the bat as he compiled scores of 25 and 13 in the game.
All-Rounders: Karn Sharma
After impressing as an India A cricketer on the Australia Tour, Karn Sharma earned a place in the Indian squad. He made his debut as the sole spinner when Virat Kohli captained for the first time in Tests. However, it was a forgettable outing for the Railways cricketer. While he picked up four wickets, he was able to add just eight runs with the bat. He was dropped after that game and never played another Test for India.
Bowlers: Mohammed Shami, Ishant Sharma and Varun Aaron
Mohammed Shami was one of the spearheads of India's bowling attack in that game. However, the West Bengal pacer was just ten games into his career by this game. In this match, though, Shami was not impressive as he managed just three wickets.
Ishant Sharma was already an established pacer who had toured Australia a few times. He was the leader of this department. Ishant, too, was disappointing as he collected just one wicket in the game, which India lost by 48 runs.
After a gap of three years, Varun Aaron was considered in the Indian Test Team in 2014. He played the game when Virat Kohli captained India in the five-day format for the first time. The Jharkhand pacer managed only three wickets and later, only played five more Tests for India.