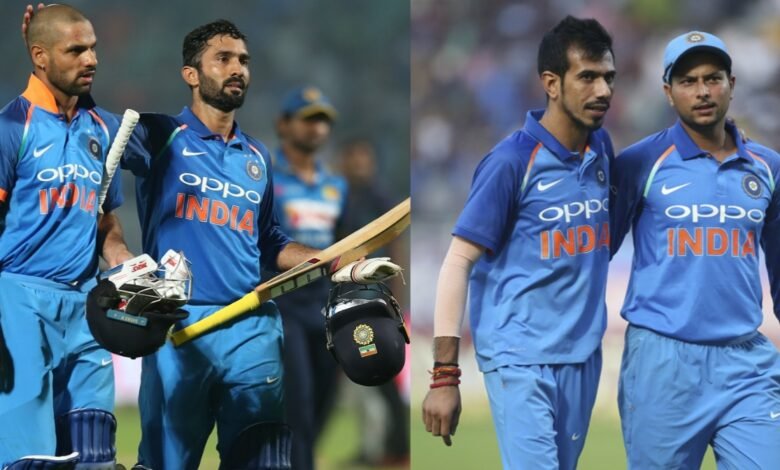 Rohit Sharma is the current vice-captain of the Indian team in limited-overs cricket. With India's WTC final loss to New Zealand, fans are demanding a change in captaincy. Sharma has shown to be a great captain over the years. However, his first match as a captain was entirely forgettable. Virat Kohli was rested for the limited-overs matches when Sri Lanka toured India in 2017. As a result, Sharma was announced as the captain of the Indian team for ODIs and T20s. Today we will take a look at the 'Playing XI' when Rohit Sharma captained India for the first time in ODIs.
Openers: Rohit Sharma (c) and Shikhar Dhawan
The combination of Rohit Sharma and Shikhar Dhawan has been a successful one for India for quite some time now. Sharma takes time to get going, while Dhawan is great at accelerating the innings. However none of them were able to get going.
Dhawan got out LBW by Mathews for a duck while Sharma got caught by Dickwella off Lakmal for just 2 runs. Both of these two openers failed to get India off to a good start in Sharma's very first match as captain.
Middle-order: Shreyas Iyer, Dinesh Karthik, Manish Pandey 
This match also marked the debut of Shreyas Iyer. However it was a tragic day for India as the middle order also collapsed after the openers failed to perform. Iyer, the debutant got out for 9 runs in 27 balls, Dinesh Karthik got out for a duck after playing 18 balls, and Manish Pandey got out for 2 runs from 15 balls.
Thus, with the entire batting lineup collapsing, it all came down to the lower order to save India's face.
Finisher: MS Dhoni (Wk)
Mahendra Singh Dhoni is one of the greatest Indian cricketers of all time. He was a part of the Indian playing XI for a long time, and saved India from certain defeat many times. Dhoni could easily manage to play with lower order batsmen and score runs by rotating the strike.
He top scored in this match, scoring 65 runs from 87 balls. Dhoni's knock of 65 pushed India to a tame 112.
All-rounder: Hardik Pandya
Hardik Pandya is someone that team India depends on to take them out of crunch situations. However this was not the case as he too succumbed to Sri Lanka's bowling attack like the other Indian batsmen. Pandya got out for just 10 runs in 10 balls.
He had an equally bad outing with the ball. Pandya bowled 5 overs and gave away 39 runs. He managed to take only one wicket with an economy rating of 7.80.
Spinners: Yuzvendra Chahal and Kuldeep Yadav
Yuzvendra Chahal and Kuldeep Yadav were the two spinners in India's playing XI in this match. Chahal couldn't do anything of note in the match unfortunately. He remained not out on 0 while batting, and didn't get a chance to bowl in the second innings.
Kuldeep Yadav on the other hand, was the second highest run-scorer for India while batting, scoring 19 runs from 25 balls. MS Dhoni and Yadav played together and saved India from an even more embarrassing score. Yadav too didn't get a chance to bowl in the second innings.
Fast bowlers: Bhuvneshwar Kumar and Jasprit Bumrah
Bhuvneshwar Kumar and Jasprit Bumrah were selected as the pacers for the playing XI for the match. Both of them had very ordinary outings, and failed to make any impact with the bat as well as the ball.
Kumar managed to take one wicket and gave away 42 runs. Bumrah on the other hand was the most successful bowler of the lot, getting a wicket for 32 runs from 7 overs. Sri Lanka could not be stopped by both of these bowlers, and won the match by 7 wickets.