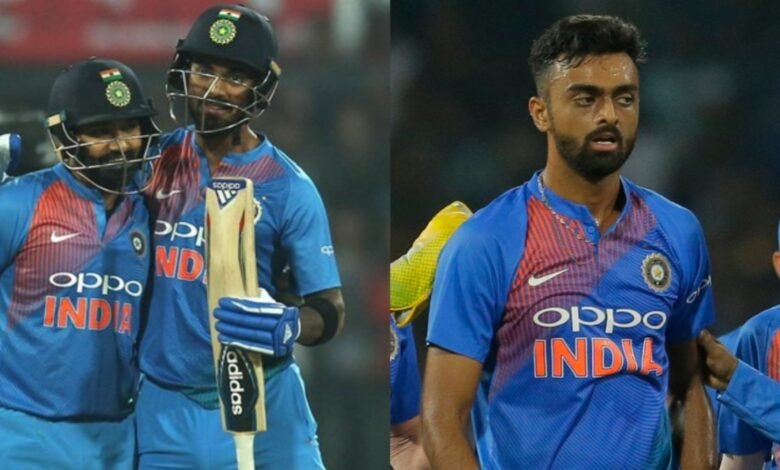 Rohit Sharma who is currently the vice-captain of the Indian team has been the most successful captain in the history of the Indian Premier League. Rohit Sharma who captains Mumbai Indians has managed to win five titles in just eight years. Rohit Sharma has taken the mantle whenever Virat Kohli has been rested or injured in T20Is for India. He has captained India in 19 T20Is and India has won 15 out of those 19. He has a win percentage of 78.95% which is fantastic.
There have been some experts who have suggested appointing Rohit Sharma as the full-time T20I captain, but at the moment he will remain the vice-captain as Virat Kohli will be the captain for the T20I World Cup. Rohit Sharma captained for the first time in a T20I match in 2017 against Sri Lanka. So, let us have a look at the playing XI when Rohit Sharma captained for the first time in T20I cricket.
Openers – Rohit Sharma and KL Rahul
KL Rahul was the second opener alongside Rohit Sharma in the playing XI when he captained India for the first time in T20I cricket. Rahul was in terrific form in that year, as he had scored runs across formats. The Indian captain got out early in that game, but Rahul was good.
KL Rahul scored 61 off 48 balls while batting first with 7 fours and one six. Both these openers were the first-choice openers for the recently concluded T20I series before Virat Kohli decided to open the innings in the last T20I. It will be interesting to see who opens with Rohit Sharma in the T20 World Cup.
Middle-Order – Shreyas Iyer, Manish Pandey, and Dinesh Karthik
Shreyas Iyer, an excellent spin hitter, was asked to bat at No.3 in the absence of Virat Kohli in the playing XI captained by Rohit Sharma. The other middle-order slots were taken by Manish Pandey and Dinesh Karthik.
Iyer scored 24 off 20 balls and Manish Pandey finished off the innings with 32* off 18 balls as India went on to score 180-3 in their 20 overs. Dinesh Karthik was slotted to bat at No.6 and so didn't get a chance to bat.
Wicket-keeper and All-rounder – MS Dhoni and Hardik Pandya
In that game, MS Dhoni batted at No.4 and scored 39* off just 22 balls, with four fours and one six. He was also brilliant behind the wickets, especially against spinners in that game. It was a smart decision by Rohit Sharma to make Dhoni bat at No.4 in the playing XI as compared to down the order.
The all-rounder in the playing XI was Hardik Pandya, but he didn't get to bat as India didn't lose that many wickets. But he showed his skills in the bowling department as he bowled his four overs and gave away just 29 runs and picked up three wickets. Pandya will be key for India in the T20 World Cup as well.
Bowlers – Kuldeep Yadav, Yuzvendra Chahal, Jayden Unadkat and Jasprit Bumrah
Jasprit Bumrah and the left-arm bowler Jaydev Unadkat were the two pacers in the playing XI captained by Rohit Sharma. It was the time when India went in with two wrist spinners and Kuldeep Yadav and Yuzvendra Chahal were India's go-to bowlers.
Bumrah bowled only two overs for 10 runs, while Unadkat bowled his two for seven runs and picked up a wicket. Kuldeep Yadav bowled his four for 18 runs and picked up two wickets. Yuzvendra Chahal who was the Man of the Match picked up four wickets for 23 runs in his four overs. Sri Lanka was bowled for 87 as India won the match by 93 runs.