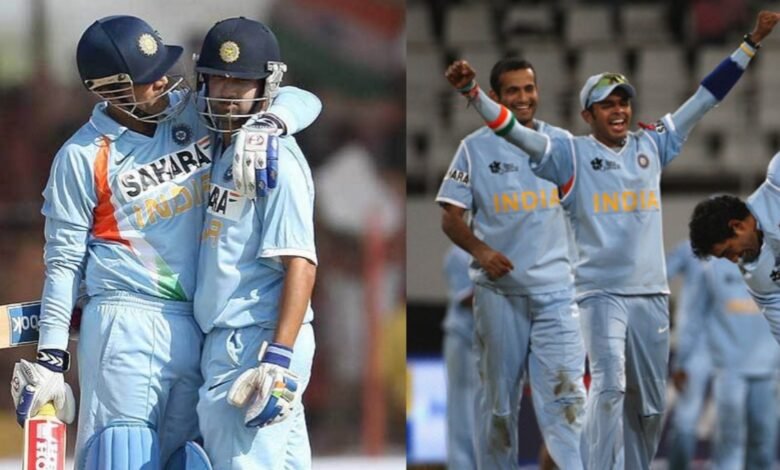 MS Dhoni who made his international debut in 2004, got the opportunity to captain the Indian team for the first time in 2007. ICC announced the inaugural T20 World Cup in 2007 and all the senior players from the Indian team opted out of this tournament. Nobody had any idea about this format as India had played only one T20I before the World Cup and a young wicket-keeper batsman was named as captain.
MS Dhoni made his captaincy debut against Scotland in the ICC T20 World Cup but unfortunately, that game got washed out. The toss had taken place for that game so MS Dhoni had named an XI for that game but not a single ball was bowled in that game. The next game was against arch-rivals Pakistan which was a dramatic game. The match ended in a tie and India won the game in a bowl out. So let us have a look at the playing XI when MS Dhoni captained India for the first time in T20I cricket.
Openers – Virender Sehwag and Gautam Gambhir
The famous opening pair of Virender Sehwag and Gautam Gambhir were the openers in the XI captained by MS Dhoni for the first time. Sehwag was a naturally aggressive player and so his game suited the shortest format. In Gambhir, India found the perfect partner for Sehwag.
Both of them together formed a left-right combination and there was a mix of attack and defense. This opening pair turned out to be crucial in the inaugural T20 World Cup for India.
Middle-Order – Robin Uthappa, Yuvraj Singh, and Dinesh Karthik
All the senior members had opted out and so India had to turn to some young players who hadn't played much cricket for India. Robin Uthappa, Yuvraj Singh, and Dinesh Karthik made up the middle-order in the XI captained by MS Dhoni. None of them had played much T20I cricket so it was a completely new format for everybody.
Uthappa scored a crucial fifty in the game against Pakistan as India was in trouble at one stage with the score being 36-4. Uthappa even bowled a ball in the bowl out which no one expected but he hit the stumps and helped India win the match. Yuvraj Singh was the star of the World Cup as he went on to do some unimaginable things.
Wicket-keeper and all-rounder – MS Dhoni and Irfan Pathan
MS Dhoni was playing a lot of roles as he was the captain, the wicket-keeper, and the finisher of this young Indian team. Irfan Pathan who had done well for 2-3 years before the T20 World Cup was given the role of an all-rounder.
Dhoni scored a crucial 33 in his first game as captain and Irfan Pathan too chipped in with a quickfire 20 and picked two wickets for just 20 runs in his four overs. Pathan bought balance in the XI which is exactly what MS Dhoni would have wanted.
Bowlers – RP Singh, Ajit Agarkar, Harbhajan Singh, Sreesanth
The T20 World Cup was in South Africa so MS Dhoni picked only one spinner in the XI. Harbhajan Singh had some experience till then and was a key member of the squad. He picked up one wicket in the first game.
RP Singh and Sreesanth were the two swing bowlers who were brilliant throughout the tournament. RP Singh picked up one wicket in the first game for just 23 runs. Ajit Agarkar was the third pacer for India in that first game.
MS Dhoni started his captaincy with a dramatic win over Pakistan and he never looked back as India went onto win the inaugural T20 World Cup under his captaincy.