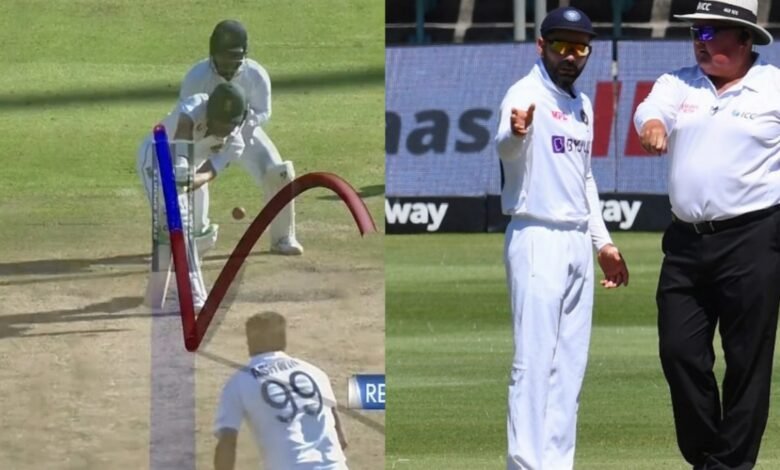 Indian Test cricket team captain Virat Kohli broke his silence over the Decision Review System controversy that happened during the third match of the ICC World Test Championship series between the Indian cricket team and the South African cricket team. 
The Indian cricket team asked for a review when Ravichandran Ashwin's delivery during the 21st over of the second innings hit Dean Elgar on the pads. It was a length delivery on the line of off stump. The ball came back in and hit on the batter's front pad. 
The on-field umpire adjudged it out as the Indian fielders appealed for an LBW. Dean Elgar asked for a review. It was a fair delivery, and there was no bat involved. 
The pitching was in line, the impact was in line, but the ball shockingly did not clip the stumps. Instead, it showed wickets missing as the ball tracked showed that the delivery would have bounced over the stumps. 
The Indian cricket team stars lost their cool after seeing the review. They blamed the broadcasters; Virat Kohli also said on the stump mic, while it was also said by the players that it was the whole country of South Africa against the 11 players of India on the field. 
Virat Kohli addressed the controversy during the post-match presentation
Dean Elgar was batting on 22 when this incident happened. He added eight more runs and lost his wicket to Jasprit Bumrah on the final day of Day 2. The South African cricket team eventually won the match and the ICC World Test Championship series by a scoreline of 2-1. Keegan Petersen was the hero for the South African side. 
Both captains had a chat in the post-match presentation, where Virat Kohli addressed how the people on the outside won't understand what happened in the middle. Many cricket experts questioned the Indian cricket team's behaviour after that controversy. Here's what the Indian captain Kohli had to say: 
"I have no comment to make on either. We understood what happened on the field and people on the outside don't know exact details of what goes on on the field. "