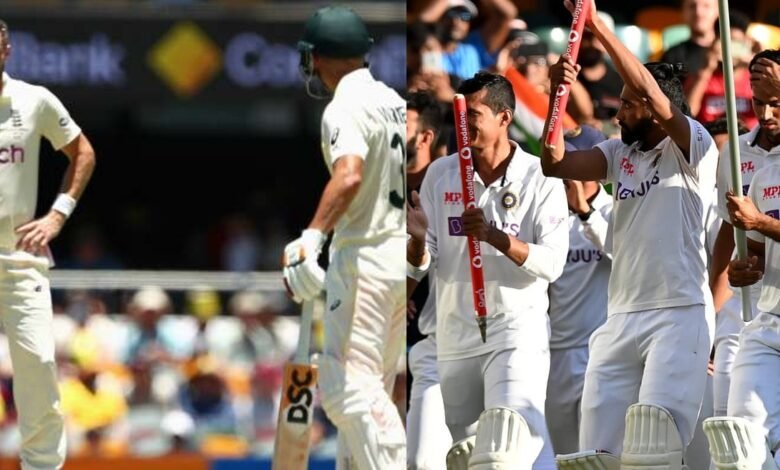 After England's comeback with the bat on day 3 in the first Ashes Test, it seemed as if the fans might get to see another extraordinary turnaround at the Gabba. The surface seemed very flat and with England, just 58 runs away from nullifying the first-innings lead, the game was evenly poised at stumps on day 3, considering the fact that Australia had to bat fourth.
But, somehow, England just lost the momentum as they resumed their innings on day 4. It was not as if the pitch started behaving any differently all of a sudden. There was no massive movement off the deck, and there was not too much in the air either. It just took a couple of moments of lapse of concentration from the two set batsmen at the crease, and England suffered another middle-order collapse to lose the first Ashes Test.
India, under similar circumstances, had turned things around in the 4th innings at the Gabba earlier this year, where on a surface that had flattened out after the first three days, they chased down a score in excess of 320 to hand Australia their first ever defeat at the venue in more than three decades.
While Australia's bowling attack was the same in both games, what was different was the application showed by the two batting orders. While England couldn't build on the big partnership they got at the top of the order, India had contributions both at the top and the middle order to trump Australia at their fortress.
The partnership of Root and Malan was England's only significant batting effort in the first Ashes test
Apart from the partnership between Joe Root and Dawid Malan in the second innings, England didn't have one significant contribution with the bat in both innings in the first Ashes test and that's certainly not the kind of effort that can be enough to beat a quality team at home, particularly at a venue where they have lost just once in 33 years.
Indian fans took a dig at the England team as the Gabba test came to its conclusion, saying not every team has got it in them to breach Australia's fortress-like India did without their main players. England had won an Ashes series in Australia by 3-1 in 2010, but even during that series, they were not able to win the Gabba test match, which suggests how difficult it has been to face the Kangaroos at the Gabba.
For Indian fans, it's a matter of great joy and pride that they are the only team to be able to do something in Australia that no team ever achieved in the last 33 years. Here is how Twitter reacted as Australia beat England at Gabba by 9 wickets –
Winning in Gabba is not everyones cup of tea!..India done last year.

A brief resistance from England on day threw but Australia have cruised into a 1-0 series lead.
Really impressive bowling and batting performance from Australia in the 4days. #AusvsEng
#Ashes2021 #Ashes pic.twitter.com/zoAzSFgP3P

— RangaSamy(ரங்கசாமி)🇮🇳 (@SamyRanga05) December 11, 2021
The Gabba pitch on day 3 & 4 had a lot of runs in it. Any team with a decent batting lineup like India, NZ or Pakistan would have scored 450-500 & taken match into the final day.

But England with it's army of batsmen averaging 30 in FC cricket aren't the team to do that! 👍👍

— Cricketjeevi (@wildcardgyan) December 11, 2021
Breaching Gabba Fortress is not everyone cup of tea 🍵 #Ashes #Australia #India pic.twitter.com/TaVuJtge2p

— Aftab Shaikh Raza (@aftab_cena) December 11, 2021
Win in Gabba Is not everyone's cup of tea #India #Ashes2021 #AUSVSENG #BGT pic.twitter.com/8vr4C7F6vs

— Balakrishnan (@balakrishnanv_2) December 11, 2021
England on day 4 pitch collapsed from 221-2 to 297 inside 1 session
Shows its tough to bat at gabba vs this bowling line up on last 1-2 days and some 🤡s say Gabba was flat pitch so India won at gabba on 5th day and degrade knock of Gill,Pant,Pujara,Sundar,Lord

— 👻 (@MovieandCricket) December 11, 2021
Australia has played 64 test matches in gabba, they have lost only 9 and only once they lost after leading in the first innings… against might india in 2021.

What these 3 did on day 5 of gabba was kind of impossible actually pic.twitter.com/a3Up68T8UN

— . (@No_googly) December 11, 2021
India is the only team to defeat Australia at Gabba in the last 33 years. That's the domination of our team India🇮🇳#TheAshes #Ashes2021 #Ashes #ENGvsAUS #AUSvsENG@mufaddal_vohra @CricCrazyJohns @WasimJaffer14 pic.twitter.com/OExLCXepOo

— Innocent Child (@bholaladkaa) December 11, 2021
The English team collapsed like a house of cards after Malan & Root were dismissed. Buttler, Stokes & Pope had to put up a fight, but they failed. A few months back, India did the needful (and more!). Totally agree with this ⤵️: Winning in Gabba is not for everyone. #Ashes https://t.co/SXSte42hdT

— Nimit (@nimitarora1991) December 11, 2021
India were in a similar spot of bother in Gabba at the start of the year like England today until that Shardul – Washi partnership happened. What application from newbies, man! Made a life out of that game. When we talk about Gabba 2021, I hope we talk more of this each time.

— { (@NipBackers) December 11, 2021